Apparently Steve Martin and I have at least one thing in common.  We don't care for Goop aka Glee Destroyer aka Gwyneth Paltrow.  Gwyneth and Steve Tweeted the same pic from the Oscars but with very different taglines.  Whereas Goop stated she "loved her life," Steve kept it real: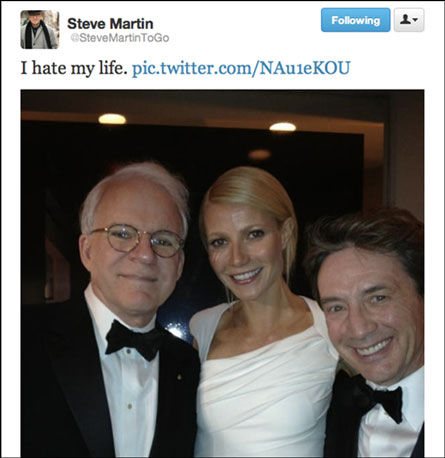 Steve Martin, I love you.  Your movies might suck these days but you put your piquant wit and biting satiric pen to good use in your essays and Tweets!
PS I also love Martin Short.  Bring back Jiminy Glick!!!
Thanks to Dlisted for bringing this delightful story into my life.
Tags: goop, Gwyneth Paltrow, martin short, Oscars, steve martin