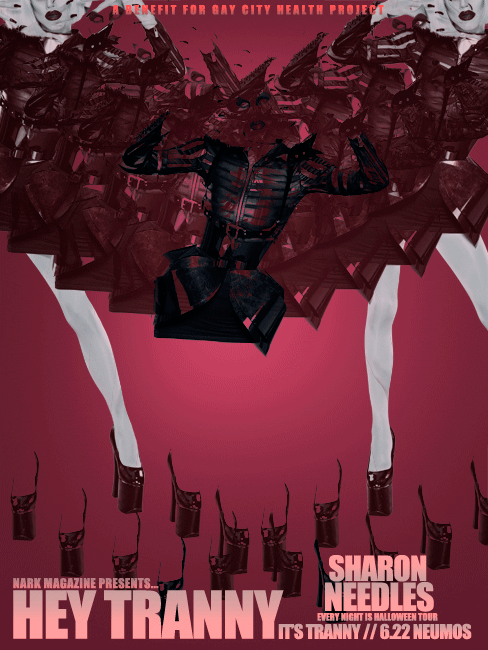 Oooooh! That DJ Nark has a lot of things in the planning stages. He's apparently taking his Nark Magazine to the next level in a few weeks, (which we fully support…as long as he doesn't snatch any advertisers from us…then, we'll have lock him up in the SGS sex dungeon…;-) He's also added a hot new night at The Cuff, his Sunday night "Bottom 40"; and he's continuing along with all his other regular gigs all over the West Coast including Fringe and Dickslap. He's a busy little multi-tasker!
He's got more shenanigans up his sleeve…he's just announced over at Nark Magazine that Sharon Needles, the breakout superstar punk diva from the currently running season four of  "RuPaul's Drag Race" will be headlining at his HUGE, annual "Hey Tranny Its Tranny!" event on June 22, 2012. AND, the party is moving from Havana to the larger capacity Neumos! AND, it's a fundraiser for Gay City Health Project…it's gonna be THE Pride Party this year.
As for Sharon Needles, regardless if she wins this season of RPDR, she is definitely a huge new star in the Dragolicious/We Love the Nightlife Party World…she is increasingly in demand and grabbing her now, was a huge coup for Nark and Seattle nightlife fans. We can't wait for more info on the event… I know there's more talent to be announced.
And, he doesn't appear to have officially announced it yet, but if you look down at the lower right hand corner of Nark Magazine's main page you'll see his Calendar of Upcoming Events. You'll notice the bottom event is for:
8/25 MATTACHINE! w/ John Cameron Mitchell, PJ Deboy, Paul Dawson, Amber Martin | TBA
For those of you not in the know, "Mattachine!" is beloved performer/promoter/filmmaker/Hedwig & The Angry Inch star/creator John Cameron Mitchell's traveling party dance event which has played up and down the West Coast including Portland, but has never made it to Seattle. Looks like that's about to change.
We. Can. Not. Wait.
A reason not to leave Seattle in August this year…
Tags: DJ Nark, Hey Tranny It's Tranny!, John Cameron Mitchell, Mattachine, NARK Magazine, Sharon Needles