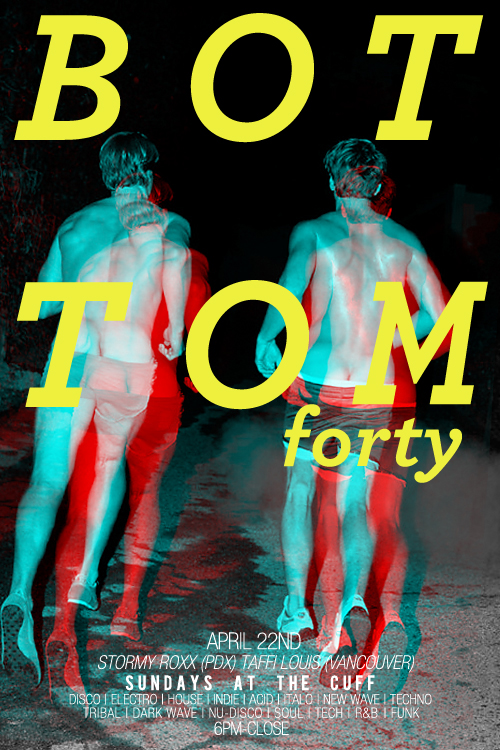 Bottom Forty kicks off at 6PM at The Cuff this afternoon, with all this lovely sunshine we are having why not mix it up with a beer, patio, and a disco? Today Bottom Forty welcomes two out of towner boys at the decks, Stormy Roxx from PDX and Taffi Louis from Vancouver, along with various qt's they brought in tow, and the best part? You can get in for all the free you want with the password REAL TALK.
The Bottom Forty collective has been working real hard at bringing the best of the best to The Cuff each Sunday, some big ones to look forward to are Honey Soundsystem, Miracles Club and Robot Hustle on Sunday May 13th and In Flagranti for Pride Weekend Sunday 6/24.
Bottom Forty is an aural gallery for the absolute finest in music selected and compiled by only the best musicians and DJ's, ranging anywhere from disco, soul, electro, dark wave, italo, house, funk, tribal, new wave, indie, acid, R&B, nu-disco and techno from all generations, but never inches to the top of the boring billboard charts. Every week, Bottom Forty is a mirror ball in New York, a basement in Chicago, a cruise in L.A. and a night in the desert.
Under the same name, Bottom Forty is also the creation and home base of Seattle's first queers only DJ Collective, contributed to only by the highest caliber of queer musicians who vehemently stick to their integrity and prowess in musical selections and mixing.
Bottom Forty Residents:
Nark // Riff-Raff // Pavone // Spaceotter
Located at The Cuff
1533 13th Avenue, Capitol Hill
6PM-Close
Free before 8pm
(Visited 1 times, 1 visits today)