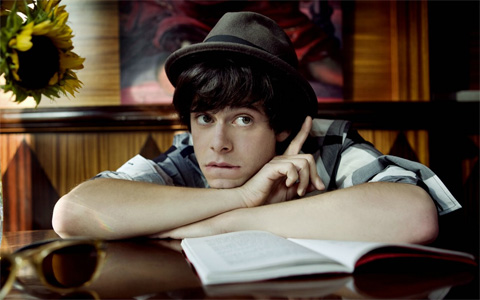 Does anyone else feel like chicken tonight (does anyone say chicken anymore, I feel old)?  Anygay, if you do here is some freshly outed meat for ya'.  Paul Iacono, an actor that appeared on MTV's The Hard Times of RJ Berger, just came out in an interview with The Village Voice's Michael Musto.
Says Iacono regarding his now open gayness:
Yes. I'm rolling with the punches here. I was asked if I was comfortable doing gay press. I said 'Of course.' I didn't think I'd be coming out. But why not now? I think it's the right time to say something. It's not about me, it's about change and the work.
On why he came out:
The whole reason we came up with Kinsey's Scale is to give young gays characters to look up to. It's great that we have Chris Colfer, but we need more characters. I was so moved by your comment on Facebook that 'If I'd grown up with gay TV icons that were out, I'd have been so much better off.' I didn't have much to look up to as a kid. I had to search to find like-minded images. I'm happy to be that person so kids won't have to grow up and be afraid of their sexuality and this won't be an issue.
And his conclusion:
All these little homos need to stop killing themselves because it does get better!
Congrats on living your life honestly, Paul. Now take of your clothes and jump in the shower like Darren Criss (who is not gay but plays one on TV).
Tags: coming out, paul iacono