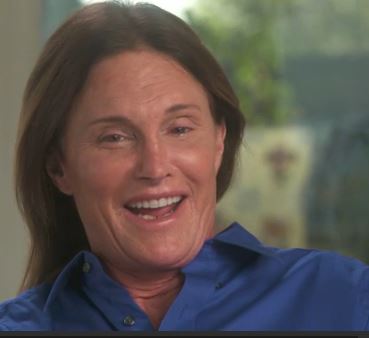 It wasn't a huge surprise after months of speculation but Olympian and Kardashian Clan patriarch BRUCE JENNER made front page news last night as he came out of the trans* closet in a two hour long prime time interview with Diane Sawyer and ABC News, and declared, "I am a woman."
During the course of the two hours, Jenner (who used male pronouns during the interview, so we'll use them as well) revealed his struggles with gender identity dating back to his youth and how he came to accept his gender.
"I look at it this way—Bruce was always telling a lie. He's lived a lie his whole life about who he is. And I can't do that any longer."

"My brain is much more female than it is male. It's hard for people to understand that, but that's what my soul is."
Jenner also revealed his wives, children and immediate family were aware of some aspects of his gender identity. He also said he is not sexually attracted to men.
Diane Sawyer also asked how Jenner felt when President Obama revealed support for the Trans* community in this year's State of the Union address.
"Did you cheer the president?" Sawyer asked Jenner.

"I will certainly give him credit for that," Jenner responded. "But not to get political, I've just never been a big fan. I'm kind of more on the conservative side."

"Are you Republican?" Sawyer asked.

"Yeah," he said with a smile. "Is that a bad thing? I believe in the Constitution."

He added that he's thought about whether becoming a woman would be unsettling for the conservative wing of the Republican party, but told Sawyer that neither political party has a monopoly on "understanding."

Jenner also said he would go to House Speaker John Boehner and Senate Majority Leader Mitch McConnell to help promote the LGBT cause.

"In a heartbeat, why not?" He told Sawyer. "And I think they'd be very receptive to it."
So, bravo for Bruce Jenner and their coming out of the trans closet! Best of luck to them in the future! We can't wait for the inevitable book and reality tv show!
And, meh on his poor choice of political identity. They're a bit deluded to think Boehner and McConnell are going to be doing much campaigning with a trans woman. And, a further boo on using "I believe in the Constitution" to defend conservatism.
So do liberals.
Tags: Bruce Jenner, coming out, Coming Out Trans