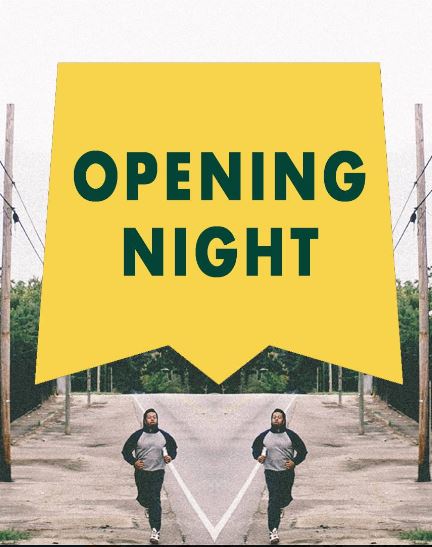 Filmmaking is a complex craft that can take years to master, if total mastery is even possible. As such, films by young and/or inexperienced filmmakers typically suffer a variety of flaws, from poor writing to clumsy shot-making and bad acting. I expected to endure any number of those flaws Thursday at the Cinerama when I attended the Opening Night program of the 9th annual National Film Festival for Talented Youth, aka, NFFTY. Much to my delight, the five short films on display showed great depth, sophistication, and technical acumen. If this opening line-up is a true representation of the overall quality of this year's films, then this is one festival you will not want to miss.
The Cinerama was packed with an enthusiastic audience. Young people milled about wearing their filmmaker badges, talking Hitchcock and Welles ("Have you seen The Trial? It's a bit of a mess, but…" and so on), the air sugared with chocolate popcorn aromas. Outside, rain hit the Red Carpet, drenching some people during their photo ops, but no spirits seemed dampened. After a round of fund-raising pleas and corporate-sponsor speeches, the lights dimmed, the curtains parted, and the program began.
22 year old director Henry Chaisson kicked off the night with his film Open 24 Hours. It explores the intersection of comedy and violence as Tarantino might do, but with less verbosity and a greater emphasis on shot-making and editing prowess. There is no violence in the picture, but one man arrives at a convenience store with another man locked in his trunk, and he wants to buy rope and duct tape. That's where his plan goes awry thanks to a clueless cashier, and comedy ensues.
In his film Two and a Quarter Minutes, director Joshua Ovalle, age 15, explores the thoughts that might occur to a boy in the titular amount of time it takes for a person to drown. A Terrence Malick inspired voice-over-montage technique is employed to great effect as we hear the voice of the drowning boy and see images related to, but not exactly duplicating, his words. The overall effect is lyrical, heartfelt, and more than a little profound.
The third film in the line-up was the animated short Magarwasi from India's Varun Nair, Kartik Gupta, Bhanu Khandelwal, and Eshana Multani, ages 20-22. According to the credits, it was produced using Pixar's RenderMan, and it shows. This is a polished effort that channels John Lasseter neatly while asserting its own aesthetic. A tribe of crocodiles, rats, and other creatures threaten to cook a drunken policeman, but it all turns out to be a dream — or does it? The art is beautiful, the animation quality is high, and the writing is tight and funny.
Alabama filmmakers Charles Frank, Andrew Hutcheson, Ginny Kramer, and David Brickel, ages 20-24, were up next with their film Small. It is anything but, as it conveys big emotions in two stories that only ever connect on thematic levels. That rather daring structure holds together thanks to adept shot-making and intelligent editing. Two men struggle with different disabilities, but they cope in similar ways involving movement-enhanced creativity. I was especially impressed by the filmmakers' patience as they allowed certain performative moments to develop during longer takes. Sometimes young filmmakers focus too much on fast cutting and other high-octane tactics. Small feels mature and self-assured without allowing its deliberation to collapse into inert boredom.
The evening ended with a film out of the UK called Copy That, by Kingsley Hoskins, Barbara McCormick Thomas, and Ed Vijayavargiya, ages 22-23. I saw shades of Ephron-meets-Jeunet in this tale of an unlikely office romance facilitated by a sentient photocopier. This is a smartly paced rom-com that had the audience laughing straight away with its sharp writing and editing.
Overall the program was well sequenced. The evening started and ended with laughs as three comedic pieces alternated with two serious meditations. Afterward, busses shuttled attendees to MOHAI for the first of four official festival parties. It seemed like a rousing success for everyone involved, including yours truly. As a veteran of two film degree programs, I have watched (and made) many "young filmmaker" movies, and I entered my first NFFTY event with some trepidation that was proved entirely unfounded. The state of youth cinema, it seems, is strong indeed.
Are we entering a New Film School Generation golden era, wherein people begin honing their craft in Middle and High School instead of College, as did the original Film School Generation of Scorsese and Coppola fame? The gear is affordable. The educational infrastructure is in place. The talent is obviously available. And thanks to NFFTY, the exhibition and community channels are open. Everything seems to be coming together for young filmmakers now. It makes me wish I had been born in the year 2000.
NFFTY runs through Sunday at the SIFF Uptown Cinema on Queen Anne. I highly recommend it for young filmmakers who seek inspiration and new collaborators; and for anyone who wants to support the next generation of cinema artists. The future is now, and it's not only better than you might think — it's great.
(Visited 1 times, 1 visits today)