We're doubly excited because two amazingly wonderful things are happening next week and neither of them are Thanksgiving which is ok though we do love the turkey and cranberry sauce (though you can keep that nasty green bean casserole shit…)
The other big things a'happenin' are the reopening of Seattle International Film Festival's Uptown Theater venue in the Uptown/Lower Queen Anne neighborhood of Seattle….and, the premiere of the much anticipated House of Gucci film starring the one and only Lady Gaga as a murderous wife in the Gucci Family.
First things first….SIFF obviously had to shut down all three of its venues last year because of the Covid pandemic, the three being its homebase SIFF Center screening room at their main office on the Seattle Center campus, the nearby Uptown Cinema 3-plex and Capitol Hill's beloved Egyptian Cinema. The Egyptian and SIFF Center both reopened at the first of October but we've had to wait a bit longer for the Uptown to dust off the popcorn and plug in the neon for their reopening. In reality, they've been busy making all kinds of improvements to the Uptown during the Covid shutdown including: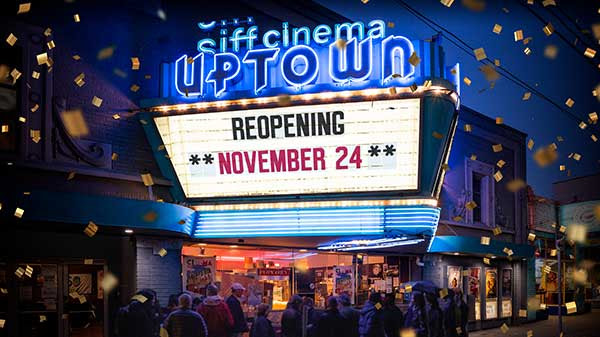 Featuring new lighting, touchless technology, carpet, roofing, paint, curtains, and a new screen in House 2 coming soon, the improved theater will enhance the overall cinema going experience. In addition, improved handrails and lighting will boost safety and a new HVAC system will help protect against the spread of airborne illnesses like COVID and the flu.

Happily, we get to experience all those changes beginning on Wednesday, November 24th when the Uptown reopens with three films playing including the Seattle premiere of "Julia" a new documentary about beloved chef Julia Child and "House of Gucci" with its all-star cast of Lady Gaga, Adam Driver, Jared Leto, Salma Hayek, Jeremy Irons and Al Pacino.
SIFF has more goodies lined up in the weeks ahead including:
One Night Only – December 8:
Two Days Only – December 18–19:
One Day Only – December 25:
One Night Only – December 31:
For showtimes, pricing and tickets visit SIFF.net
As for "House of Gaga" er, "House of GUCCI" we can't wait to experience it.
That and the turkey.
(Visited 1 times, 1 visits today)