Sad News to report as it has been announced that the first out transgender mayor, Silverton Oregon's Stuart Rasmussen passed away on Wednesday, November 17, 2021. Popularly known as "Stu", the politician and advocate passed away from metastatic prostate cancer. Stu was 73 and survived by their "longtime love" Victoria.

Note: Stu, a self-proclaimed "gender anarchist" was rather fluid with pronoun usage, using both he/him and she/her pronouns interchangedly.
Rasmussen gathered national headlines in 2008 when he became Mayor of Silverton, a city of 10 thousand just northeast of Salem, Oregon. Stu's election brought not only worldwide media attention to the sleepy town but also protesters in the form of bigoted member's of Westboro Baptist Church from Topeka Kansas, the anti-gay hate church founded by Fred Phelps. But, the citizens of Silverton banded together and counter-protested against the hate group with many of the townspeople donning drag in support of their mayor.
Seattle also got on the "Stu" bandwagon of love in 2013 when the local Intiman Theatre company produced the world premiere of a musical theater piece based on Stu's life as a transgender person in rural Oregon called STU FOR SILVERTON. The sweet (but, rather slight) show has continued to workshop and fine tune the production in an effort to take it to Broadway, but to little avail.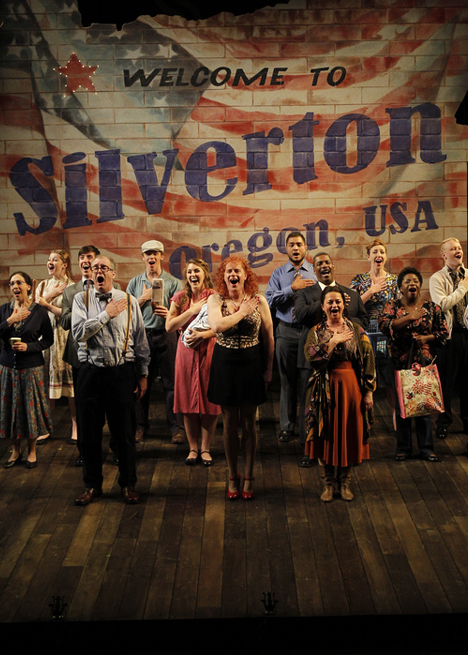 The current mayor of Silverton, Kyle Palmer issued this obituary for Stu a few days after his death:
It is with sadness that I report that Mayor Stu Rasmussen passed away Wednesday around 11am after a number of weeks under home hospice care for metastatic prostate cancer.His longtime love Victoria noted that "he went bravely into the unknown on his own terms.

"One of the few people around with single name familiarity in our community and beyond, Stu received international attention in 2008 when he became the nation's first transgender Mayor. His story was featured in People Magazine, on Good Morning America, and was the subject of a stage production in Seattle titled "Stu for Silverton."

The producers of that production recently completed filming a documentary about Silverton, Stu, and specifically an incident following his 2008 election that brought the Westboro Baptist Church to Town in protest of his lifestyle. They were met by a large crowd of demonstrating citizens – many of them wearing dresses – supporting Stu and demanding that they leave town.

He set an example for members of our community who needed to see that it was safe to live their lives openly in our community.

Stu first served as Silverton's Mayor in 1988, followed by service as a City Councilor, and Library Board Member. He returned to elected service when he was elected to City Council in 2004. Returning as Silverton's Mayor starting in 2009, he held that position until Rick Lewis was elected in 2014.

Stu ran the Palace Theater for the majority of his life, managing to preserve the magic of a small town theater even while showcasing the blockbusters that arrived in the late 70's and navigating the frustrations of studio restrictions that made it harder and harder to turn a profit.

I will never forget being allowed to see Star Wars twice a night for seven straight days as an eleven year-old in 1977, but it also wasn't uncommon to go to the Palace for the popcorn and just happen to enjoy a movie in the background. The ridiculously low ticket prices and the fact that a whole family could have popcorn and a drink for less than $10 was a welcome relief as movies elsewhere became unaffordable for many.

Throughout his career as an elected official, Stu advocated for many things on behalf of those who shared his vision for Silverton. Although citizens can debate their support or lack of support for some of those visions, the time for those conversations has long passed. His volume of service to city government, his role as a longtime downtown business owner, and his impact on the LGBTQ population in Silverton and beyond leaves a huge legacy behind.

My thoughts are with Victoria, as she faces life without Stuart for the first time in many decades. I'm comforted in the knowledge that he is no longer in pain.

Kyle Palmer, Silverton Mayor
A toast to the legendary Stu Rasmussen!
(Visited 10 times, 1 visits today)