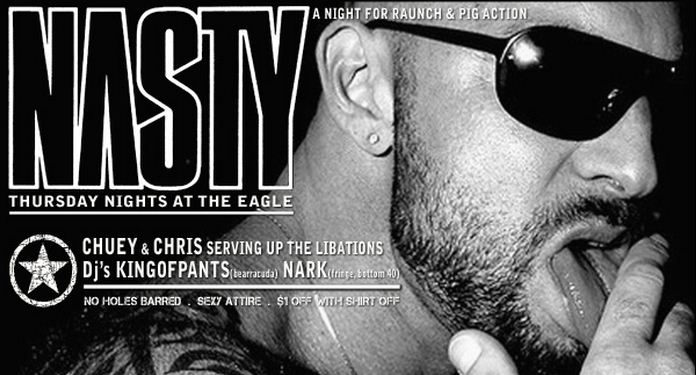 If movies aren't your main gruv thing, then you have some freakier/dirtier options for Thursday, May 3rd…
The Seattle Eagle debuts a new weekly event called "Nasty"…apparently they want to get in on the rush to grab Thursday night revelers as well as every other bar/club in town. Here's what you can expect via their Facebook invite:
NASTY-NASTY-NASTY
EVERY THURSDAY NIGHT STARTING MAY 3RD

This Week Featuring: Dj's KINGOFPANTS (bearracuda) special guest NARK  (fringe, bottom 40)

THE SCRUMPTIOUS: CHUEY & CHRIS SERVING UP THE LIBATIONS

NO HOLES BARRED . SEXY ATTIRE . $1 OFF WITH SHIRT OFF
A NIGHT FOR PIGGY ACTION & RAUNCHY ATTIRE

NO COVER …JUST BRING YOUR SEXY SELVES & BE READY TO PARTY!

LETS SEE WHAT TROUBLE WE CAN GET IN….?
The naughty fun starts at 9pm.
Meanwhile, a few blocks up Pike Street at the occasionally kinda/sorta queer friendly dive institution, The Comet, a gaggle of very queer misfits invade that den of iniquity for a night of perversion they're calling BABYLON DEATH PARTY 3, which includes beloved, trash queen diva JACKIE HELL with some very special guests including GAYDOLF HITLER. (If you love the dark, gothy vibe of Sharon Needles, you'll adore this bunch…) It's dark, arty, subversive drag, live music and performance art…with a political edge to (some) of it. Oh, and Tarot Card readings. We whole-heartedly approve. Here's more info:
KOOK TEFLON & TONY JAMES present:
BABYLON DEATH PARTY 3 presents "BELTANE Ashes"
*** KOOK Teflon and NAndi celebrate birth*****
…Out of the ashes comes the sun fun!
……………………..
-Please bring offerings for the altar-
…………………….
Live Performances by:
$7.00($2.00 0ff if u wear a veil or gold lame')
21+over

*VIVIVI (PDX)
http://vivivi.bandcamp.com/

*The Witches Titties
https://www.facebook.com/pages/The-Witches-Titties/326913527329858?ref=ts

*Jackie Hell
https://www.facebook.com/profile.php?id=100000172945118

*Orson Wagon & his plastic chair(SF)
https://www.facebook.com/profile.php?id=100002750787398

*ARTSTAR
https://www.facebook.com/Hausof.artStar

*Gaydolf Hitler
https://www.facebook.com/events/304443052949264/

*Chad Carver (PDX)
https://www.facebook.com/chadw.carver

*An Magi
http://www.an-magrith.com/

also tables n fun by:

HARDTIMES PRESS
https://www.facebook.com/pages/Hard-Times-Press/310667742317580

DAMEBUILDER (feminists art collective)
http://www.damebuilder.com/

TEFLON SISTERS ZINE
https://www.facebook.com/pages/Teflon-Sisters-Zine-official/102867306456100

SCARLET FOUNDRY TAROT READINGS
http://www.scarletfoundry.com/
Drag out some gold lamé and your favorite veil and maybe your crustiest pair of black leggings.
Tags: Babylon Death Party, Goth Events, Jackie Hell, Nasty, Performance Art, Punk, The Seattle Eagle