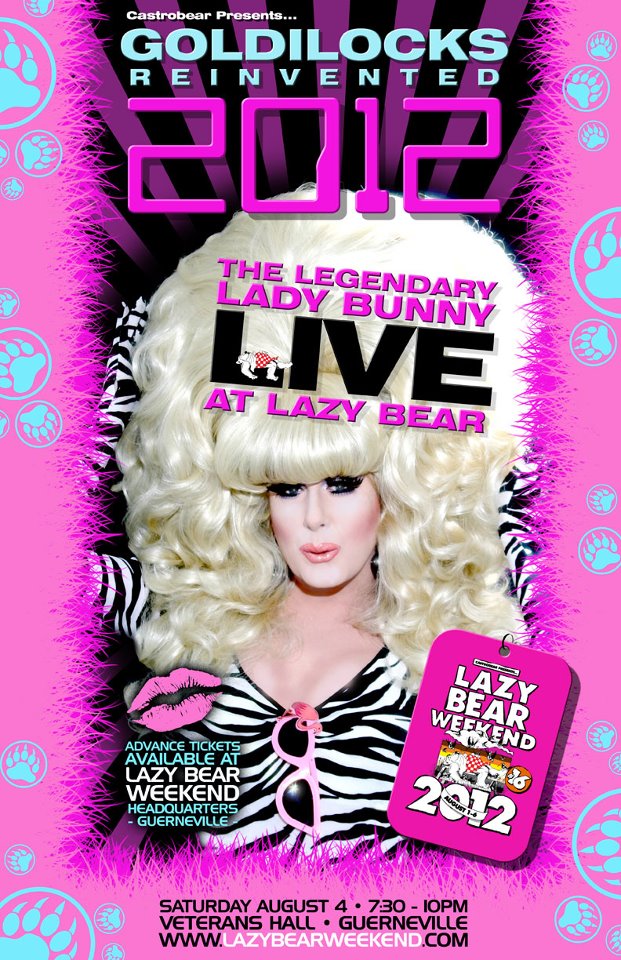 My favorite husbears, DJ George Delmar and Rich Kaalaas from Two Knights Event let me in on some info not long ago; their popular August series of events known as "Northern Xposure" is taking a break this year after ten successful years. The couple are spending more time on their home based business Rein Fire Ranch, a fabulous event facility in the wilds of Ravensdale, at the base of Mt. Rainier.
They're also busy cooking up plans for the OTHER big summer event they work on, "Lazy Bear Weekend", the uber-popular gathering of the bearishly inclined along the Russian River in Sonoma County, California. Lazy Bear Weekend 16 is set for August 1-6, 2012 in locations around Guerneville, CA and while the official schedule isn't up yet, they've been leaking info about this year's events over at the FB page. So far, we've heard there is a "Texas Hold'em Poker Tournament" happening but the biggest news is the just announced entertainer for the big Saturday, August 4th party: the legendary Lady Bunny will play Goldilocks to all those beefy bears!
Squee!
As for saddened "Northern Xposure" fans, you have some options…One, go to "Lazy Bear" this year. But, if you weren't planning on going that far in August, you can still hang around Seattle and have some fun. Normally, August around here is consumed by Sea Fair (aka "Straight Pride") but we happen to know there are some amazing events lined up for the queerishly inclined this year. Nark is bringing "Mattachine" to town (and Chop Suey specifically) on August 4th and for those of you unaware, Mattachine is the awesome DJ music project of "Hedwig & The Angry Inch" creator John Cameron Mitchell with the assistance of two of his actors from his follow up film, the zexy "Shortbus", Paul Dawson and PJ DeBoy as  DJ's. HAWT! (AND, oddly enough and a total coinky-dink, a third cast member from "Shortbus", singer/songwriter Jay Brannan will be doing a show at The Crocodile on Thursday, August 2nd! Tickets for that are available HERE!)
There's some more "Tranny-riffic" stuff being planned for August as well including some hella fun in Georgetown with Sylvia O'Stayformore and all to be discussed at a later date.
Stay tuned…
(Visited 1 times, 1 visits today)