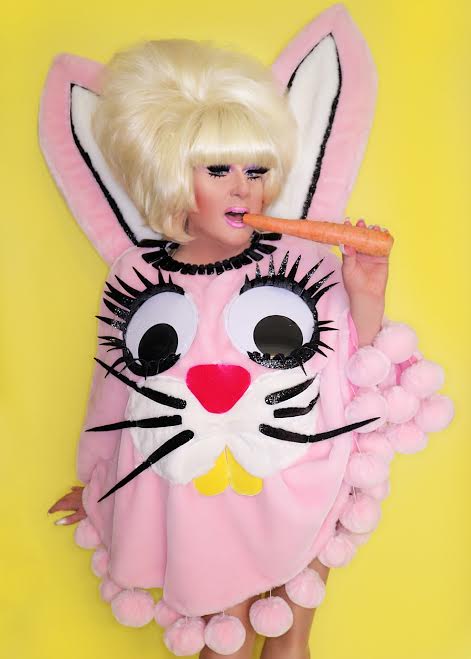 And, the grumbles/rumbles are already being heard as Qurb Magazine announces that their next big live show at the Egyptian following their hit with Peaches Christ, "Legally Black" starring Bob the Drag Queen, will be the one and only drag superstar, LADY BUNNY bringing her hit solo comedy show, TRANS-JESTER! to Seattle on Thursday, May 11th, (tickets HERE!)

While the legendary performer is an icon to many in the LGBTQ community, for her decades of performing and activism including founding WIGSTOCK the iconic drag performance festival in New York City as well as for her work as a DJ, and as a fierce political commentator on her blog and other media outlets and for her many appearances on RuPaul's television shows over the years, she's also considered a pariah to some for her raunchy, politically incorrect, insult humor which some find offensive and detrimental to the queer rights movement. There were numerous criticisms of Lady Bunny's last major appearance at Seattle PrideFest 2016 where some local social justice activists objected to the tone and content of Lady Bunny's set performed on the main stage. (Check out our interview with Lady Bunny from last year…)
Qurb Magazine is already dealing with some complaints about this new show starring Lady Bunny. "Trans-Jester!" is the star's rebuttal to critics of her style of performance…in other words, it's a non-stop barrage of filthy jokes, dirty song parodies, explicit political incorrectness and lots and lots of material on the awfulness of Caitlyn Jenner. (And, let's be honest: Caitlyn Jenner IS awful…) If you're not a fan of insult comedy, it's probably not the show for you.
Which is a reminder that not every piece of entertainment or art is meant to be enjoyed by every member of society. "Different strokes for different folks" applies to comedy shows just as much as anything else and while some enjoy Carrot Top or Jeff Dunham, others don't. Some people groove to Joan Rivers or Bianca Del Rio or Lady Bunny and…some don't. Some people like "safe nurturing" comedy consisting of endless jokes about how awful cisgender white males are and…some don't. I tend to avoid most country music concerts, wrestling matches, stock car races and Christian rock concerts not just because I'm not that crazy about any of those things, but also because I realize I'm not the correct audience for any of them.
Don't like a form of art/entertainment: don't support it. Don't go. Don't buy it. Vent on social media if you want ("Here's why I don't like this performer") You can even complain about the appropriateness of an artist in a certain situation. We complained about Azealia Banks performing at Neumos last year; didn't think that was the best venue to present the notorious music artist frequently criticized for her inflammatory and threatening language. We suggested they move the show to a different venue (the show was ultimately canceled). But we never suggested she be banned or try to insist no one else can ever see an Azealia Banks' show…that's the height of presumption and arrogance.
And, we'll step off our soapbox to get back to the announcement of this new show…if you love the "Bun Bun" and her filthy mouth, it's a must not miss show.
If not, stay home.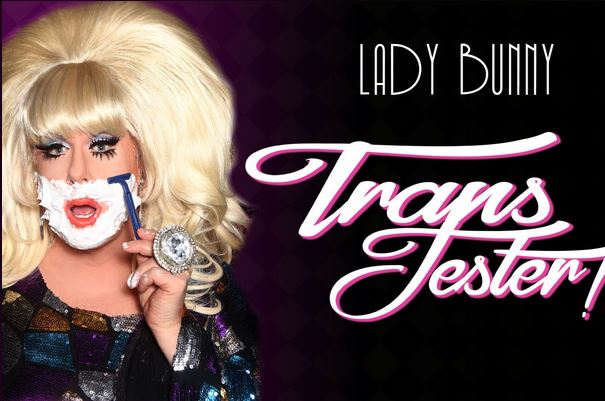 The press release:
Qurb Magazine Proudly Presents:  LADY BUNNY in "TRANS-JESTER!"…her highly acclaimed one-woman show, a journey of raunchy political incorrectness, hysterical song parodies and engaging storytelling.

THE SIFF EGYPTIAN THEATER – 805 E. PINE STREET, SEATTLE, WA

Thursday May 11th @ 7:00pm

DON'T MISS THE CRITICALLY ACCLAIMED TRANS-JESTER!  In addition to new parodies which re-work selections from Adele, Rent and Bruno Mars to hilarious, effect punctuated by zany Laugh-In style zingers, Bunny has widened her repertoire to include some insightful social commentary. (Well, she thinks it's insightful, anyway.) Trashing the current overemphasis on political correctness, Bunny breaks down some of the latest buzzwords that we're all supposed to remember for every for every occasion as we "evolve." Sometimes, Bunny feels, that we're evolving away from common sense! Take the new name for our community–LGBTIA. Does anyone even know what that means?

While Bunny shies away from politics in this performance–because one train wreck on stage per night is enough and we all need a break from this toxic election–she doesn't shy away from gender politics and the new pronoun we're forced to learn every time Will Smith's son puts on a dress. After Caitlyn Jenner reached out to Republican presidential candidate Ted Cruz to become his "trans ambassador", Bunny feels that it's time for the gloves to come off while addressing that car crash. You don't want to miss Bunny doing Cait's twisted version of "My Favorite Things".

Theater queens rejoice! In her loooooong career in nightclubs, Bunny has never delved much into show tunes, but in Trans-Jester, Bunny brings it on home with a show-stopping finale featuring two classics from Gypsy and Follies. The eclectic evening also resurrects songs by country star Lynn Anderson, Millie Jackson and even an original tune which pokes fun at the dating life of whatever sex it is you want to call this "Lady".

Please note: This show is raunchy. Not politically correct by definition–that's the whole point. So if that's not your cup of tea, you should honestly skip it. Or prepare to grab a drink and laugh, cheer and possibly even be challenged by a salty old kook who isn't afraid to express herself from a viewpoint which is often unique.

Trans-Jester! is written by Lady Bunny and Facebook sensation Beryl Mendelbaum.

***PRAISE FOR TRANS-JESTER!***

Michael Musto for Out.com: "Long running drag star Lady Bunny is currently doing the most screamingly, gratifyingly, crap-your-pants funny show in town. Upstairs at the Stonewall which was always a riot Bunny is appearing in Trans-Jester, poking merciless fun at pc normatives. She spins and shimmers in amazing voice. The show is all like that–raunchy and eye opening, fetidly appealing yet thought provoking."

John Cameron Mitchell: "A scream for sanity from the nastiest, most big-hearted comic performer around."

Huffington Post Gay Voices: "A gag-worthy show you can't miss."

TICKETS

Tickets are on sale beginning Wednesday, April 12, 2017 at www.Universe.com/TransJester.  Prices range from $15 (Balcony) to $40 (VIP Meet & Greet) With the purchase of a VIP ticket, audience members are given priority seating (front rows center section), as well as attendance to the meet and greet with the living legend Lady Bunny herself, which takes place immediately following the show. These exclusive and limited VIP tickets are in short order, so be sure to get them before they sell out.

All tickets are open seating within the assigned sections. — Doors open @ 6:15pm
Tags: Azealia Banks, Barely Living Legends, Controversial Artists, Controversial Shows, Drag Queen Comedy, Insult Comedy, Lady Bunny, Notorious Artists, Politcally Incorrect, Solo Shows, Trans-Jester!