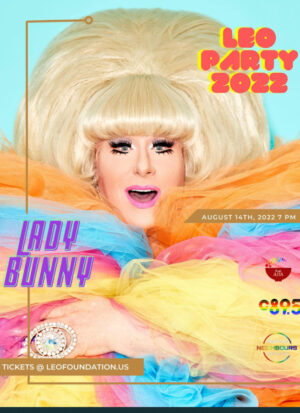 We're always excited when the Lady Bun Bun comes to town! The saucy mouthed, wig stacker returns to the Emerald City this Sunday, August 14th for the 367th annual LEO PARTY, the big annual fundraiser created and produced by Joe Torres! This year's model features the Lady Bunny (on DJ duties apparently) plus RuPaul's Drag Race diva April Carrión plus a bevy of local and out of town talent.
It all benefits Official Pride Asia and C89.5 Public Radio and it's happening at Neighbours Night Club, 1509 Broadway on Sunday the 14th with doors at 7pm and show starting at 8pm.
Since 2003, the Leo Foundation and the Leo Party has raised thousands of dollars to support area organizations like Lambert House, Youth Suicide Prevention, and the late and much lamented Seattle Counseling Service.
From founder Joe Torres:
Other talent for 2022: Irene Dubois, Anetra with Mr. Sean Paul and Mr. Kenneth Blake. Special appearance by Kevin Stea. Plus: Atasha Manila, Latin Rose, Carlos El Jilguerillo Perez, Victoria Amore, Queen Andrew, Veronica Sacristan, Luna Palacios, Yesenia Cruz.
Go here for tickets: https://www.eventbrite.com/e/leo-party-2022-tickets-356517251697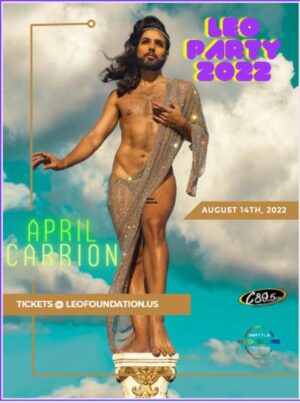 (Visited 5 times, 1 visits today)