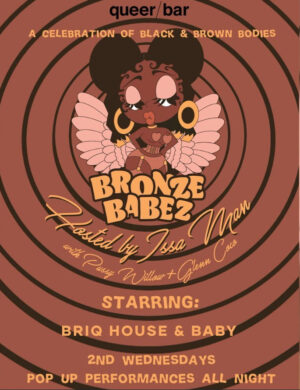 There's a new monthly queer burlesque show in town and it features all artists of color!
It's BRONZE BABEZ and it's happening 2nd Wednesdays at Queer Bar starting at 9pm. It's a self-described "celebration of black and brown bodies and artistry".
Obviously, this is a a 21+ plus event, kidz….sorry.
It's hosted by Issa Man with Pussy Willow and Glenn Coco.
Tonight's very special guests are Briq House and Baby.
It's a must do night for BurlyQ fans!
Tags: Bronze Babez, POC Burlesque, Queer Bar, Seattle Burlesque, Seattle Queer Burlesque, Wednesday Night Events Seattle