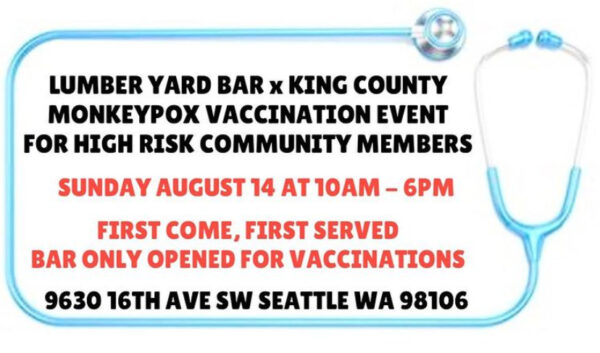 Fans of The Lumberyard Bar, the beloved gay bar in White Center that had to shut down after a devastating arson fire over 4th of July Weekend in 2021 are counting the minutes until the popular venue reopens. Owners secured a new location right across the street from the old bar at 9630 16th Avenue SW but as usually is the case when it comes to build outs, it takes a lot longer than you hoped and planned. Originally, they were shooting for a July opening but that didn't happen and now they're shooting to get the doors open for drinking and mingling by the end of August.
But, even though they don't have the ok to serve drinks yet, the Lumberyard is still a good neighbour and they ARE opening the doors on Sunday, August 14th for a community clinic…to give out Monkey Pox vaccinations.
In collaboration with King County Health, the bar will be "open" for those vaccinations for "high risk community members" from 10am to 6pm (or until they run out of vaccinations). It's first come/first served so if you consider yourself high risk, you should get there EARLY!
The monkeypox virus has unfortunately gotten a toehold on the "men who have sex with men" community which has led to right wing/anti-gay bigots trying to label the virus as a "gay disease"…which it's not. Although it's not sexually transmitted, it is spread by close physical contact. The disease usually causes a rash/blisters on the skin which is relatively easily spread to others by contact with the skin irritations. Monkeypox is rarely fatal but it is unpleasant, with flu-like symptoms and the blisters can be itchy and painful depending on their location (and leave scars). Most people recover from monkeypox in 2 to 4 weeks.
Monkeypox has spread in Seattle in recent weeks with 195 cases reported as of today, August 10th per the Seattle/King County Public Health Department.
Who is high risk?
Well, if you're currently a man who has sex with other men then you could be considered high risk. Obviously, if you're in a monogamous relationship or not currently having sex with other men, you'd be at lower risk. People who have received the smallpox vaccination also have some protection against monkeypox…it doesn't prevent you from getting it, but is likely to result in a milder illness.
If you haven't been able to get a vaccination yet, there is more vaccine on the way….Seattle/King County is expected to receive a large (4000+ doses) next week (after August 15th).
(Visited 1 times, 1 visits today)