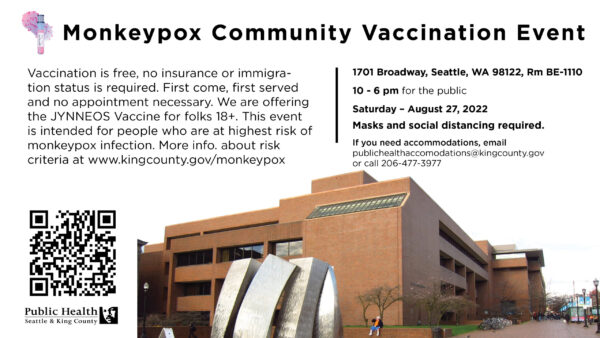 Are you a sexually active man who has sex with other men in Seattle/King County and are concerned about monkeypox? If you are, and you haven't received a monkeypox vaccine, then there's a vaccination event happenning this Saturday, August 27th that can help.
It's happening at Seattle Central College, 1701 Broadway (Room BE-1110), on Capitol Hill from 10 am to 6 pm. Because vaccines are still in short supply, you should only get the vaccine if you meet the criteria for being at high risk. Guidelines are down below.
While not usually a life threatening illness, monkeypox is still not something you want to get. It does make you ill for a period of time and very uncomfortable and the skin eruptions can leave permanent scars.
For more information, check out the Public Health-Seattle/King County website: https://kingcounty.gov/depts/health/communicable-diseases/disease-control/monkeypox.aspx
Who can currently get vaccine (updated August 26, 2022)
Vaccination supply is currently prioritized for:
People who have had sexual, close intimate contact or other high risk close contact with someone who has tested positive for monkeypox.
Gay, bisexual, or other men or transgender people who have sex with men AND at least one of the following:

Multiple or anonymous sex partners in the last 3 months
Have had syphilis or gonorrhea in the prior year
Have used methamphetamine in the last 3 months
Attended a bathhouse, public sex venue, or group sex (sex including at least 3 people at the same time) in the last 3 months
Experiencing homelessness/unstable housing (including living in a shelter, car, group/congregate setting; living with friends or relatives; couch surfing) in the last 3 months
Being incarcerated currently or in the last 3 months
Black, Hispanic/Latinx, Native Hawaiian and Other Pacific Islanders, Asian, Indigenous, or American Indian/Alaska Native.

Sex workers of any sexual orientation or gender identity.
Health officials do not currently recommend vaccination for members of the general public who are not at high risk of recent exposure to monkeypox.
The eligibility criteria may evolve with changes in the outbreak and vaccine supply.
(Visited 2 times, 1 visits today)