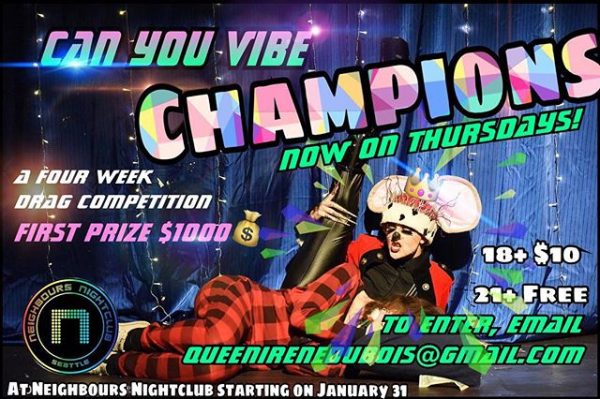 So, people got in a tizzy a few weeks back when it got out that NEIGHBOURS NIGHT CLUB & LOUNGE was for sale. The 35 year old night club quickly made it clear that it wasn't going to close anytime soon and continues to make changes to improve the club including refurbishment and the recent debut of a new logo and a new website. Check it out HERE!
They've also moved around and changed some of their ongoing weekly events including moving their popular Wednesday night 18+  "COLLEGE NIGHT" and VIBES drag show to Thursday night starting this week.
AND, Vibes is starting a new drag competition as well with CAN YOU VIBE CHAMPIONS starting this Thursday, January 31st. It's a 4 week event with a $1000 grand prize. Email queenirenedubois@gmail.com for more info to enter.
Remember: Vibes/College Night is 18+ w/ID and $10 cover for those under 21. It's FREE for those 21 and UP…'cause they can buy booze!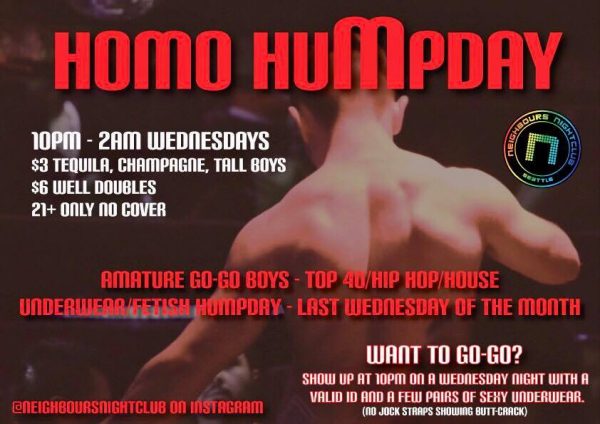 And, Wednesdays are now HOMO HUMPDAY featuring go-go boys and Top 40/House/Hip Hop and tons of drink specials. AND, the last Wednesday of each month (starting in February) will be the special UNDERWEAR/FETISH HUMPDAY. More poo:
 Introducing Homo Humpday! No cover! Starting this Wednesday come see amateur go-go boys, dance to some top 40/hip hip/house, and $3 tequila shots/champagne/tall boys, and $6 double wells! 21+ only. Want to be a go-go boy? Show up at 10pm with some sexy underwear that doesn't show your butt crack. Sadly this means no jocks. Also starting in February, every last Wednesday of the month is Underwear/Fetish Humpday! See you here 😈 
(Visited 1 times, 1 visits today)