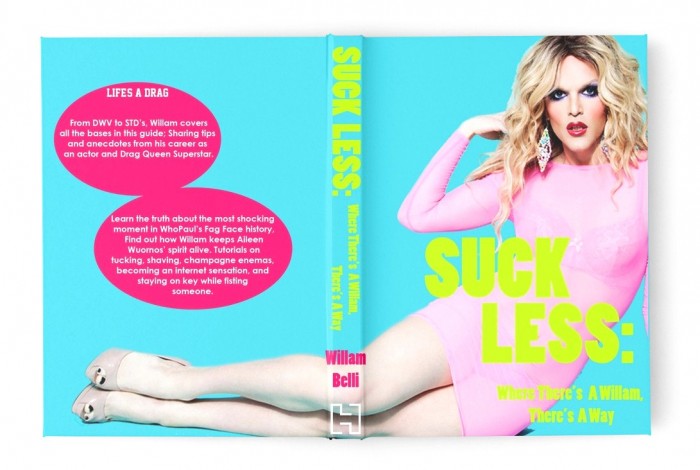 We're just praying it doesn't suck as much as Michelle Visage's stupid vanity book…
Yes, naughty drag diva motormouth WILLAM BELLI has written a book! And, we're guessing it's a doozy (but only guessing since no one has sent us a copy…hint, hint!) It's coming out October 18, 2016 from an actual publisher (no…it's not a sad self published "book") and you can snag it at Amazon.com or from your favorite bookseller if there happens to be one still open near you!!
The book is titled "Suck Less: Where There's a Willam, There's a Way" and features sassy tough advice about…just about everything. Examples include:
Suck Less at covering bad skin
Suck Less at shoes
Suck Less around famous people
Suck Less at having a great body
Suck Less at sex and relationships
Suck Less at break-ups
But, does it cover things like "Suck Less at Covering Up Your Five O'Clock Shadow" or "Suck Less At Doing Stuff That Gets You Booted Off 'Reality' Shows"?
Blink…Blink…
Per his publicst: "Willam is also gearing up for the 4th season of his popular web series, The Beatdown, in which is tears apart everything happening in Pop Culture News and The Internet."
And, yet more block quotage from Willam's lips/fingers:
The only lie told more often than "No, that looks totally cute on you" and "I got AIDS through oral" is "It gets better." Well, a lotta times it don't. Sometimes it just sucks less. But I promise you: where there's a Willam, there's a way.
But this isn't all about me (for once). It's about you and how you can SUCK LESS at a variety of things drag queens are so much better at than the average person. I've got clap backs and life hacks and tips on classing up a simple grab-and-run lifting spree to the much more dignified act of larceny. Super-important life stuff with my own special, secret fag- swag sauce. So welcome to Willam's School of Bitchcraft and Wiggotry. Class is in session.
The Divine Willam (why didn't he call the book: "There's No I In Willam, Motherfuckers!!!") is jetting around this great nation of ours to promote his new tome. He's in PortlandiaLand on October 20th and lucky Seattle will get to hobnob with Willam at Neighbours Nightclub on Friday, November 4, 2016 at an undisclosed time…we're guessing earlier as opposed to later but…who knows? It's a book launch thing so we're not sure if Willam is going to perform or just sign and schmooze but we're trusting that Neighbours will make a Facebook invite soon and let us know.
Hint, hint.
(Visited 1 times, 1 visits today)