Junior Boys are two fellas from Canada who know how to make some awesome fuckin music!
I gotta admit, at first listen, I was little unsure. The vocalist has a great voice, and the music is awesome, but I wasn't really sure if they fit together. It almost sounded like two separate songs were happening here. But half-way through the first song I got into it and could hear how the two worked together and produced a really good sound.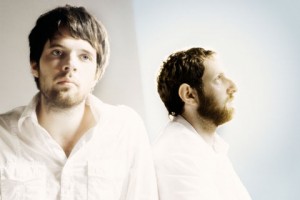 Junior Boys are a combination of disco, rock, r&b, and electronica. That's a lot of different sounds to put together and these boys have figured out a formula with these genres of music that mix very well together. Sure, they're reminiscent of some of the 80's sound, but who isn't now a days. And I'm not the biggest fan of electronica, so if I like them this much then surely  you will too!
The duo formed in 1999 and after some hits & misses got signed to a label in 2003. They have released four albums to date, "Last Exit" 2004, "So This Is Goodbye" 2006, "Begone Dull Care" 2009, "It's All True" 2011.
Their songs run the gamut in subject matter from "Birthday" which is about being left on your birthday (I haven't experienced this yet, but I'm still young.), "In The Morning" about your one night stand being too young to see again, (Ummm, I've been there, a few times!), "Itchy Fingers" about not being sure the person you're with really wants to be there (no comment!).
Here's a video for their current single "Banana Ripple". Their videos suck so no need to watch them, but while you're waiting to buy their albums, you can shake your butt to this song while your doing something else.

The boys have also  set up a nice website with tour dates and info: http://juniorboys.net/
And you can listen to full tracks to go their myspace page:
http://www.myspace.com/juniorboys
Happy Listening!
Lainy's Song Of The Week
Positive K "I Got A Man" 1992.
I had no idea there was a video for this, but I've loved this song for years! Totally worth the watch!

(Visited 6 times, 1 visits today)