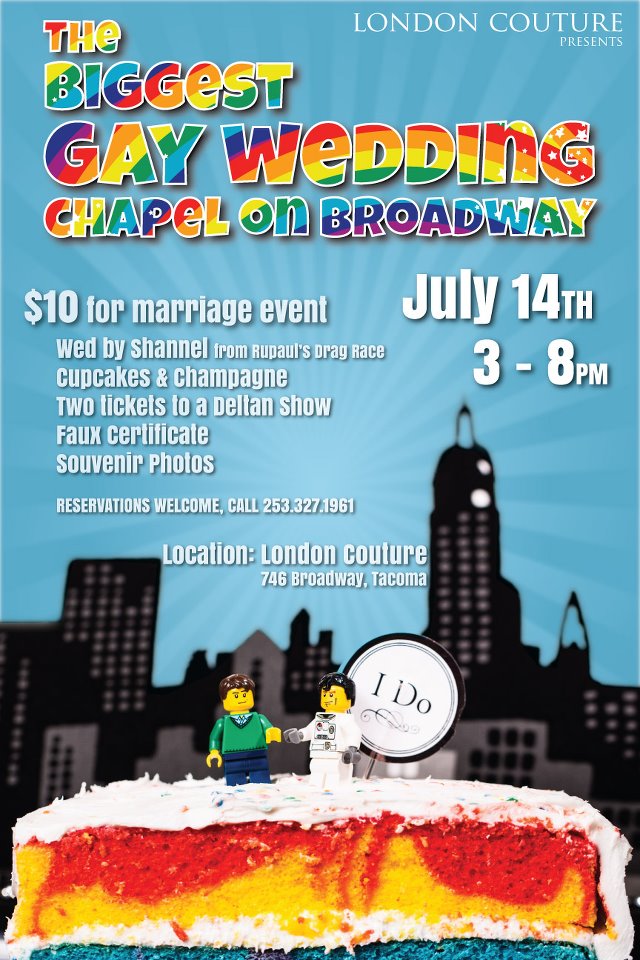 Seattle had its big homosexual brouhaha last month but Pride festivities for other communities can roll out at any time of the year, partly for weather reasons or maybe just to not compete with every other event trying to book faded disco queens and RuPaul's Drag Race stars…
Our neighbors to the south who put the "Tac" in Sea-Tac are gearing up for their big celebration of all things queer this coming weekend, July 13-15. Tacoma Pride Festival kicks off Friday with a flag raising at the Tacoma Municipal Building and a party at B2 Arts Gallery but the big events are Saturday the 14th and include a worship service, a Pride celebration in the park, an art show and a street party:
BRUNCH AND "OUT WITH GOD" WORSHIP SERVICE

OUT IN THE PARK:

THE RAINBOW CENTER'S ANNUAL LGBTQA PRIDE CELEBRATION

HIDE//SEEK//DIFFERENCE//DESIRES//NORTHWEST

THE MIX'S 4TH ANNUAL PRIDE BLOCK PARTY

OASIS YOUTH CENTER BBQ
And, there are some other non-official Tacoma Pride events as well including The Deltan Club's big "Halleloo, I Do!!" a marriage equality fundraiser/Pride party with RuPaul's Shangela and trotting down from Seattle, Aleksa Manila, Lily Armani and Mama Tits. There's TWO shows on Saturday, with tickets available at BrownPaper Tickets.  And, The Deltan has also managed to squeeze in an Inferno dance party for the ladies from 5pm to 9pm and an all-ages party from 11pm to 3am. That's a lot of party for one club…those bathrooms will be TRASHED by 1opm!
If that wasn't enough marriage equality fundraising fun for ya, there's also "The Biggest Gay Wedding Chapel on Broadway!" event happening at London Couture Vintage Couture House, 746 Broadway Avenue. Join RuPaul Drag Race star Shannel for the pretend wedding of your dreams:
Show up at London Couture (746 Broadway Tacoma WA 98402) Saturday July 14th between 3pm – 8pm to register.

For only $10 you and your bride/groom or both will be personally wed by Shannel from RuPaul's Drag Race in a ceremony that will BLOW YOUR MIND!

You will celebrate with a toast and super gay wedding cupcakes! You will also have a personal photographer to capture the happiest day of your life and as a suvenier your SUPER OFFICIAL London Couture Marriage Certificate as well as 2 tickets to a Deltan Follies Show.

Reservations are welcome
(253) 327-1961
Who knew you could have so much damn fun in the South End?
Tags: London Couture, Shangela, Shannel, Tacoma Pride, The Deltan Club, The Mix