Well, kind of…I woke up to check my email only to find a message from "John Mitchell". In my groggy headed stupor, I almost tossed it into the trash but then it dawned on me that it was highly unlikely actor/director John Cameron Mitchell would refer to himself by his full name. Mr. Mitchell was following up on some interview questions I had sent him the day before and needed to add some additional information and asked me to give him a call…which I did. We talked about all sorts of things, but our main topic of discussion was "Mattachine"…Unless you've been living under a man for the last few weeks, you're probably aware that Mr. Mitchell and his "Shortbus" co-stars PJ DeBoy and Paul Dawson are bringing their "Mattachine" Dance Party to Seattle this coming Saturday, August 4th at Chop Suey. There's been an ad on the site and we've posted more than one post about it. But, this is the first time we hear from the man himself…and, he spills a lot in only a few short answers! Madonna fans might want to stop right now, but fans of  Hedwig should read on…a new Hedwig theatrical piece is in the works!
Michael Strangeways: Who's idea was it to do Mattachine? Or, was it one of those group consensus, "Hey, let's put on our own dance party night!" things?
John Cameron Mitchell: Yes, Paul Dawson and PJ DeBoy (from Shortbus) and I wanted to create our favorite queer gathering ever. We were bored with the formulaic gay parties in the city. We also wanted to help revitalize our local dive, Julius, the oldest gay bar in the country. We wanted a very eclectic musical palette–four-on-the-floor thumpthumpthump is not us. We wanted a pre-digital, non-agist, FRIENDLY, 70's high school dance feeling. We do slow dancing, too. Good for a fast world. You know the party is good when no one's texting. Plus we discourage overdocumenting. I always say, "No photos, only hugs." Keeps you in the present.
MS: You're obviously a very collaborative artist…is that the key to making interesting art? Finding like-minded peers to work together and support each other?
JCM: Yes!!
MS: Mr. Kauer isn't shy about voicing his ire when it comes to dealing with annoying people asking the dj stupid questions/requests…what's the oddest thing anyone's ever requested?
JCM: Odd, we love. What we hate is unimaginative like: "Can you play Madonna?" We're a Madonna-free zone. I've disliked her ever since she was a cunt to Justin Bond during her infamous birthday party back in the 90's. I liked some of her songs (never written by her). I always wanted to hear someone else sing them. Never could detect much soul in her singing. Back in the 80's you used to have to answer the question: "Madonna or Cyndi Lauper?" It was never a dilemma for me.
MS: What makes you happy and content?
JCM: I'm never happier than when I can gather a diverse group of people to love hard on each other and spread that love to loveless corners of their lives. Usually in a creative way, but also with parties like Mattachine. Plus I ain't mad at a slow-dance with a sweet boy. I welcome unsolicited slow-jam proposals.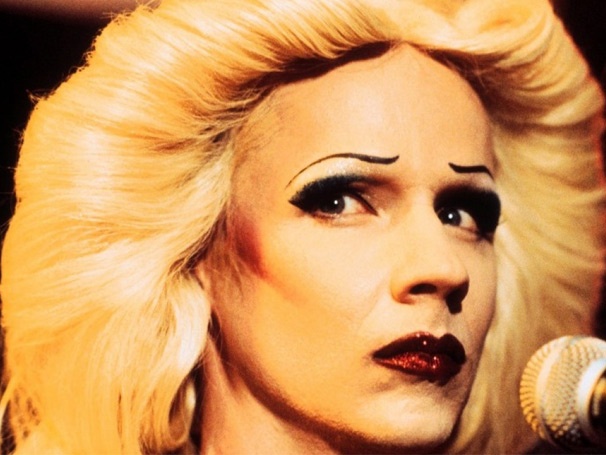 MS: You've been focusing on films and Mattachine for a few years but you're doing a reading of a new theater piece co-written with your "Hedwig" partner Stephen Trask. I have a feeling you're not going to say much of anything about it, so we won't ask specifics, but what took so long for you to "inch" your way back into a new theater piece?
JCM: Films take many years to make and I don't like to multitask. Last year I developed an epic series with a cable network that I really fell in love with. It starts in 1980 on the day Reagan was elected and it was about how we got to where we are today. it involved East Village post-punk, the Doorman's Union, Mary Kay Cosmetics, the death of John Lennon, even time travel. They passed on it. So in its wake, I really needed to do something that no one could fuck with. Something that used up everything I knew. Theater is the only form where the writer has the final say. And I realized that Hedwig was the perfect mouthpiece for a lot of the things I want to talk about. Of course, her mouth is mine…AND, Stephen Trask's! He's the most perfect artistic partner in the world.
—————————————————————————————————-
Uh, John Cameron Mitchell just confirmed that he and Stephen Trask on working on another theater piece starring Hedwig.
Several million Hedwig fans just peed their pants.
Mr. Mitchell and Mr. Trask will be at the Afterglow Festival in Provincetown next month for a reading of the work in progress. Note that this is a READING meaning no hair, make-up, costumes, sets or even a full script….it's still very much in its infancy. And, we can't wait to see what that baby grows up to look like…
Meanwhile, us grown ups can enjoy this Saturday night's MATTACHINE at Chop Suey and produced by Nark Magazine (and, thanks to Mr. Kauer for setting me up with John!) Tickets are HELLA cheap at $8; don't miss out.
Also: don't ask anyone to play Madonna…
Tags: Afterglow Festival, Chop Suey, Hedwig & the Angry Inch, Hedwig Part II, John Cameron Mitchell, Mattachine, NARK Magazine, Stephen Trask