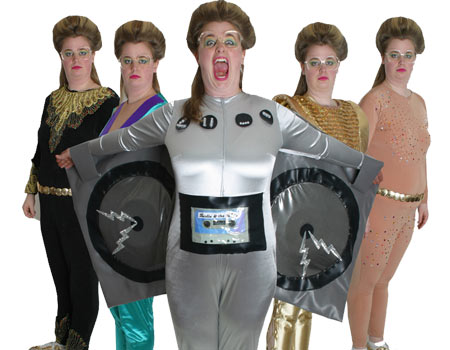 Leslie Hall is just about the best thing ever. I've seen her live many times, and her show just never gets old. I'm telling you, IT NEVER GETS OLD! She's got a mind for the most amazing, hilarious and extremely witty rhymes. She's strangely glamorous yet unflattering, and in the best way possible. It's a little like if Dina Martina and Eminem had a baby. Leslie Hall might actually be the result of their booze and dope filled one night stand. Hmmm….
She regularly tours the country with her band, Leslie and the LY's, playing everything from nightclubs to county fairs. She's appeared on MTV's Total Request Live, and has made several guest appearances on the Nickelodeon children's show, Yo Gabba Gabba! In 2006 she was named one of the "40 Greatest Internet Superstars" by VH-1. She's even given gem sweaters a quasi couture status. Not bad for a satirical rap artist from Ames, Iowa.
This Thursday night, August 2nd, Leslie and the LY's invade Re-Bar as part of the "Friends Forever Tour" being produced by the Blow Pony Kru out of Portland. Purple Crush, who was just here and rocked the Mural Stage at Seattle PrideFest, is slated to open the bill. It's enough to get an old lady out of the house on a school night!
I was lucky enough to grab a second of Leslie's time between dates on the "Friends Forever Tour". Here's what she had to say about gem sweaters, Seattle, vegetable platters, and tater tots…
LAK: Seattle is super excited about your upcoming show with Blow Pony and Purple Crush on August 2nd at Rebar! You've been to Seattle so many times and you always sell it out! What do you think your secret is to connecting to Seattle audiences?
LH: Well I have no idea why people keep coming to see me, that's what is so exciting about it. I try to wink at every audience member, so maybe it's my touch of flirtation that keeps 'em coming back thinking they might get lucky.
LAK: Have you ever worked with Purple Crush before?
LH: No I haven't, but if they have anything in common with Magenta Expansions then I think they're great.
LAK: This isn't your first time working with Blow Pony, you guys go way back, right?
LH: They brought me to perform at Portland Pride a year ago. They were nice, vegan, and they knew that I enjoy a pleasant vegetable platter so I keep saying yes.
LAK: You guested on a Team Gina track, "The Language Of Love" a few years back and you dropped this rhyme that I still can't get over. Where does all this genius come from? What are your inspirations?
LH: I believe you're referring to a song we did backstage after a show… I had just eaten a basket of tater tots from the Wild Rose. They asked me to rap and what came out I blame on the starches.
LAK: Sometimes when I am feelin' down, or just need a bump of feel good, I'll You Tube your video for "This Is How We Go". It's had over 2 million views now! Is this one of those tracks that you dread doing live now, or is it still fun to zigga, ziggah?
LH: Please do not confuse me with Britney Spears and "Hit Me Baby, One More Time." The phrase zigga ziggah I invented 8 years after the Spice Girls after came out with "Wannabe." The zigga ziggah is codeword for sexual encounters. It is a joy and privilege to perform I promise you.
LAK: You have an affinity for Gem Sweaters that is famous. People come to your shows rockin' all kinds of gem sweaters! Is there really a Gem Sweater Mobile Museum, and will it ever come this way?
LH: I made the museum and it was parked at my parent's house for four years. I probably got 20 visitors a year and they all complained about the mouse feces. When I came home from a tour with Yo Gabba Gabba in 2011, I found that my father had turned the Gem Sweater Museum into a masculine tailgating vessel for the local sports team. I want to do it again though, and maybe use an RV with a warranty.
LAK: When I was researching this interview to think of witty repartee to keep it fresh, I stumbled over Neon & Nude. What's the story here?
LH: I am hoping that it is going to catch on. I didn't want to have all my eggs in a gem sweater basket, so I learned an instrument. That's my next project: piano playing and duets about touching.
LAK: How do you feel about being a CeWEBrity? Does it support your stretchy pants budget?
LH: I love it. Now I am getting to be in the almanac's age. There are so many more. My skin's not getting any fresher and the only silicon valley I'm in is my shoe insoles. Ouch, you ever get a corn?
LAK: Girl, I got corn stories for days! But that's grandma talk. What are you most looking forward to about hitting the stage here in Seattle?
LH: I'm always excited to perform in Seattle because the crowd is always excited, which makes me excited, which makes the sound guy excited, which makes the sound guy turn up the knobs to 'dance beat overload.' So that's nice.
Well, there you have it. Let's all get our butts down to Re-Bar on Thursday night and make sure that we get that sound guy to turn the knobs up to 'dance beat overload'!
Thursday, August 2nd
Re-Bar, 1114 Howell (Boren & Howell)
9PM – 2AM / 21+ / $15 At Door
Check out L.A. Kendall's website/zine, HARD TIMES PRESS to keep up with all the doings of our favorite Seattle DJ and her producing partner David Richey and their Qulture Qreative party cru…coming up on August 24: TRANNYSHACK Returns to Seattle with Heklina and Company!
Tags: Leslie and the LY's, Leslie Hall, Purple Crush, Re-bar