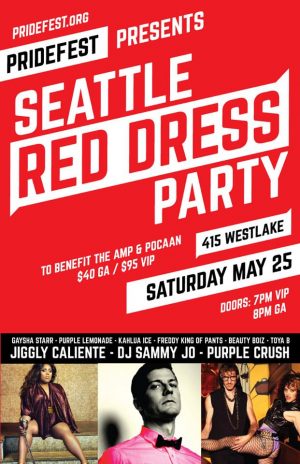 Seattle PrideFest finally released names of headliners and entertainers for this year's SEATTLE RED DRESS PARTY 2019. Popular RuPaul's Drag Race star JIGGLY CALIENTE will be the special guest along with PURPLE CRUSH and DJ Sammy Jo. 
"Extra Hotness" provided by local Seattle dance groups Purple Lemonade and BeautyBoiz plus DJ sets from Toya B and Freddy, King of Pants. 
This year's party is happening Saturday, May 25th on Memorial Day Weekend.
Tickets available now at www.seattlepridefest.org/events/red-dress-tickets

GA: $40
VIP: $95
Ultra VIP: $250 (which gets you parking and a chance to rub elbows with the stars!)

Click on the ticket link above to get details about what each ticket level includes.
Once again, the Red Dress Party returns to the intimate 415 Westlake venue which is, not so surprisingly, on Westlake in the very hip South Lake Union neighborhood. It's a fun space that makes the party seem like a flashback to your first youth dance/prom in your high school's gym!
In the past, Red Dress Party has primarily served as a fundraiser for AIDS/HIV support groups but for 2019, Red Dress will primarily support Seattle PrideFest, the producers of LGBTQ Pride events on Saturday and Sunday of Seattle's Pride weekend. It will also support POCAAN, a vital community organization for people of color since 1987 and The AMP, aka "the AIDS Memorial Pathway" project which is raising funds for an AIDS memorial in Cal Anderson Park.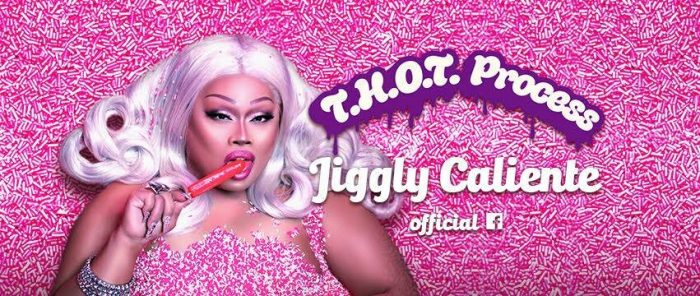 Established in 1987, POCAAN is a multicultural, multi-social service agency serving marginalized communities in Seattle and greater King County.  For many years our work has been rooted in HIV/AIDS prevention, but it has grown with the understanding that related issues such as substance abuse, incarceration, homelessness, sexually transmitted diseases, racism, sexism and homophobia also contribute to community marginalization and health disparities.
IN 2020, THE PLAZA OVER SEATTLE'S CAPITOL HILL LIGHT RAIL STATION AND THE NORTH EDGE OF CAL ANDERSON PARK WILL BECOME HOME TO THE AMP: AIDS MEMORIAL PATHWAY.

The AMP, community-driven and collaboratively funded, will use public art to create a physical place for remembrance and reflection; utilize technology to share stories about the epidemic and the diverse community responses to the crisis; and provide a call to action to end HIV/AIDS, stigma, and discrimination.
(Visited 2 times, 1 visits today)