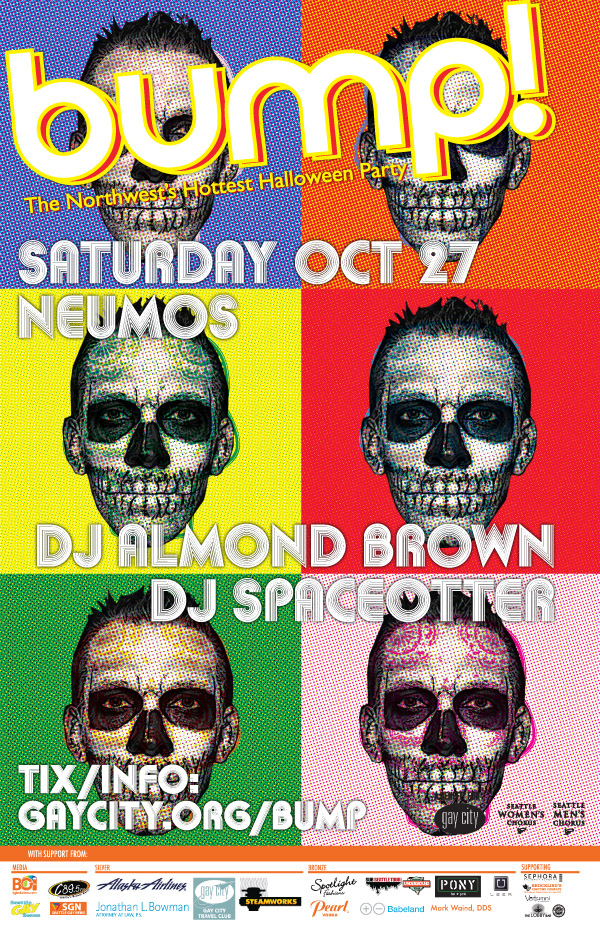 DAMMIT! Halloween is ONLY a month away and we don't have a thing to wear!
And, we're NOT going as "Honey Boo Boo" because everyone and their cousin will be werkin' that tired meme…
Meanwhile, you should also be starting to think about your Halloween themed plans…after all, it's Our Favorite Holiday. (Dan Savage always insists that Halloween isn't a "Gay Holiday"; we think he's crazy…yes, the straights really started embracing it after years of All Hallow's Eve being a party opportunity for little kids and the homos, but since when don't the geighs get all crazy excited about running around in slutty costumes trying to hook up with other folks in slutty costumes with the desired goal of having sex in said slutty costume…but, I digress.)
Since Halloween is again, stupidly, happening mid week, many Halloween events are happening the Saturday before, October 27. We have a big special event page coming about ALL Halloween related fun, but the BIG one we're gonna yak about today is the huge annual party, BUMP, put on by Gay City Health Project. Yes, BUMP is back and bigger than before but with some changes for 2012 including a welcome change in venue as the party moves back to Neumo's, on the Hill, after years of happening down at The Showbox at The Market. (It'll make drunken transport, SOOOO much easier….)
AND, SGS will be there running the photo booth!
Here's the skinny, including a chance to win vacation raffle tickets:
BUMP!, the Northwest's premiere gay Halloween event, will be taking over Neumos on Saturday, Oct 27. The night will feature heavenly music, decadent performers, and our famous $1,000 costume contest, all in an awesome new venue.

Spinning on the turntables will be Q Capitol Hill and Cuff resident DJ Almond Brown, and Bottom Forty resident DJ Spaceotter. Hitting the stage at midnight will be the cast of the Chandelier Theatre Company's revival of the Rocky Horror Show, and the festivities will be led by your emcee, the trashy fabulous Honey Buckét!

VIP guests will enjoy a dedicated VIP lounge overlooking dance floor, 2 free drinks courtesy of Pearl Vodka, a $20 discount from Uber for first time riders, sexy giveaways, delicious bites from Foodz Catering, complimentary coat check, and the fabulous Seattle Gay Scene photo booth experience. VIP tickets have limited availability.

Saturday, Oct 27 / 9pm – 2am
Neumos (925 E Pike St)

Tickets
General Admission: $30 ADV / $40 Door
VIP: $65 ADV / $75 Door
Advance Tickets on sale at Moe Bar + etix.com

Proceeds from BUMP! benefit Gay City Health Project and the Seattle Men's and Women's Choruses Membership Assistance Program Fund.

BUMP! is a 21+only event.

Win a Tropical Beachside Escape for Two! Buy Your BUMP! Raffle Tickets Today And You Could Win! Tickets are only $20 each, and only 500 tickets will be sold. The winning ticket will be drawn at 12AM at BUMP. The winner need not be present to win. BUMP! Vacation Raffle tickets are on sale now, and may now be purchased online at the link below.
Tags: Bump, Gay City Health Project