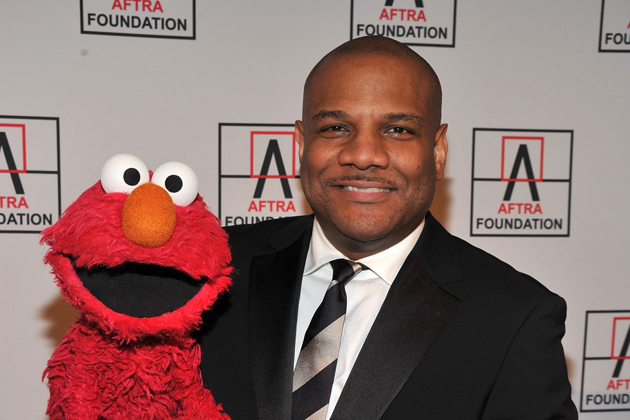 The ongoing sad soap opera and sex scandal involving the man behind Sesame Street's beloved Elmo character seems to be never ending. Last week, we reported that Kevin Clash, Elmo's puppeteer and voice, had been accused of having underage sex with a young man more than 20 years younger than the performer. Only one day after that accusation, the young man recanted, then a few days later, claimed he had lied about the recant! The accuser in question has a rather shady past so Mr. Clash definitely came off as the more believable of the two.
But, things just got worse with a SECOND man coming forward to claim an illegal underage sexual relationship with Kevin Clash, who has admitted that he is a gay man but denied the charges of underage sex. The latest charge has led Clash to resign from Sesame Street and the producers of Sesame Street, The Children's Television Workshop have issued the following statement:
Sesame Workshop's mission is to harness the educational power of media to help all children the world over reach their highest potential. Kevin Clash has helped us achieve that mission for 28 years, and none of us, especially Kevin, want anything to divert our attention from our focus on serving as a leading educational organization. Unfortunately, the controversy surrounding Kevin's personal life has become a distraction that none of us wants, and he has concluded that he can no longer be effective in his job and has resigned from Sesame Street. This is a sad day for Sesame Street.
For fans of Sesame Street and Elmo, this is horrible news. It's never good to have sex scandals attached to anything having to do with children even if the sexual part of the scandal actually didn't involve a child. Which also leads to the question: Why was Kevin Clash apparently and allegedly stupid enough to consider sexual relationships with young men of a questionable legal age? If you're working in any field involving children in any capacity, it's probably a good idea to make sure that the lithe, smooth young men you have the hots for are 19+ and not underage. And, maybe Mr. Clash met these teens in situations where he assumed they were of legal age, ie. in bars or nightclubs, but we all know that fake ids aren't that difficult to come by. The performer apparently let his dick do all the thinking in these situations…listening to Mr. Schlong frequently results in some poor decisions.
As for Elmo, Sesame Street has survived the loss of other principal performers over the years and Elmo will eventually continue with a new performer but it's always sad when the creator of iconic characters eventually has to leave the role for whatever reason. It's usually retirement or death and while a sex scandal isn't quite as final as the latter, it certainly puts a very dark mark on that performer's permanent record.
Added: Triple Sigh….Mr. Clash apparently has TERRIBLE taste in men. Gawker has some poo on the second accuser to come forward. His name is Cecil Singleton and he's a bit…sketchy. And, by sketchy, I mean really gross and trashy and apparently from the "Busted Ass  Trashy Queen School of Misfit Hustlers On The Make".
If you're going to be in a messy sex scandal, at least be in one with people who are't so nasty…
Tags: Elmo, Kevin Clash, Sesame Street, Sex Scandal