'Tis the season…for many things! We got through Ke$hmas in one piece and now we're heading in to New Year's Eve and a hundred different party options including "Hey Tranny It's Tranny vs Party Schmarty" the big whoop de do party produced by Kevin NARK Kauer and DeLouRue Productions at Neumos with a kickass line-up of talent including Ben DeLaCreme, Cherdonna & Lou, Kitten LaRue, Jackie Hell, ArtStar and Waxie Moon. PLUS, it's also almost time for the next season of Logo's "RuPaul's Drag Race" and in a neat twist of fate, TWO of the stars of RPDR 5 will be headlining "Hey Tranny vs Party Schmarty": Our own local sleepy drag legend Jinkx Monsoon AND Pittsburgh's own monster mama, Alaska Thunderfuck!
Now, most new contestants on RPDR are unknown to us, but all Drag Race fans are well aware of Miss Thunderfuck…she's auditioned for the show multiple times and her audition tape has been featured in previous seasons, but she really caught our attention last season since she is the real life ky ky partner of Season 4 contestant and eventual winner, Sharon Needles. Equally gothic and equally perverse, Alaska should win just as many fans this season as her lovely partner did last season. The combo of Miss Monsoon and Miss Thunderfuck should make Season Five a real treat to watch.
RPDR Season Five doesn't debut for another month, so until then you can get a taste of the fabulousness by grabbing tickets to see the two headline the amazing all-star show at Neumos this New Year's Eve (go HERE to buy them TODAY!) and sit still to enjoy our loverly interview with the Thunder from Alaska…by way of Pittsburgh, PA.
————————————————————————————————–
Michael Strangeways: Hey, Alaska! We're excited you're FINALLY coming to Seattle for New Year's Eve and the kickass "Hey Tranny It's Tranny vs Party Schmarty" par-tay at Neumos. You were originally booked to be here in June but you were busy…busy filming "RuPaul's Drag Race Season Five"! Are you excited about finally making it to Seattle in the dead of winter? Have you been here before? Are you ready to party down with Seattle's flannel clad, hipper than thou, coffee soaked and pot smoked homosexuals?
Alaska Thunderfuck: I've never been to Seattle before, however, I love to watch Frasier. If Seattle is anything like it is on Frasier, I expect to meet a wisecracking maid from England, a man-crazy assistant named Roz, and I want to listen to Dr. Frasier Crane's show "I'm Listening" non stop on the car ride from the airport. They say it's rainy in Seattle, but I'm from Pittsburgh so BRING IT ON!
MS: You'll be performing with your Season Five co-star JINKX MONSOON…do you have any good dish on Ms Monsoon from the Drag Race set? As a self-proclaimed "Narcoleptic Drag Queen" did you witness Ms Monsoon dozing off at any time? What was your initial reaction when she walked through the door on the first day of taping?
AT: My first impression of Jinkx Monsoon was, "Wow, what a whack-job– JUST LIKE ME!" I'm very excited to be performing with her because she's a blonde bombshell and a live-singing psychopath– we have so much in common! We'll be a perfect pair, like Sonny and Cher… Like Rogers and Hammerstein, like… Sherry Lewis and Lamb Chop! I just hope she can get her hand that far up my dress.
MS: During taping, did anyone at any point advise you to "go back to Party City!"? Does this upcoming season feature any good rivalries to match the Sharon Needles/Phi Phi O'Hara Hatefest from Season 4? Is there a good old fashioned drag queen slapfest at any point?
AT: I will personally go back to Party City any time, because it's my FAVORITE DRAG STORE. I'm serious– It never would have occurred to me until Phi Phi O'Hara suggested it to Sharon on Season 4– so thanks Phi Phi! As for Season 5 drama– you can definitely bet on more rivalries, Dynasty-style cat fights, and face-cracking T-spilling than ever before!
MS: Speaking of Sharon Needles, you have the slight advantage of SLEEPING with someone who has been through the RPDR experience…did Sharon give you any good tips on surviving the Drag Race experience? Useful stuff, like "Make friends with Bob the Cameraman if you want good coverage" or "Don't eat the taco salad at Craft Services" or "Never stand down wind from Santino Rice!"?
AT: I think a lot of people have slept with contestants from RuPaul's Drag Race– so I'm not the ONLY one with a slight advantage. But I did get some major insider secrets: Sharon simply told me, "If you ever find yourself in trouble, just call me on the Ouija Board."
MS: Of your fellow Season Five contestants, how many would you Fuck, how many would you Marry and how many would you Kill?
AT: Well, I'm not getting married until it's legal for EVERYONE to do so, and I'm too afraid to kill even a fly, so… I'LL FUCK THEM ALL.
MS: What are you most looking forward to about the debut and airing of Season Five? And, is there anything you're dreading?
AT: RuPaul's Drag Race is my favorite television show, and I've seen every episode of every season probably a dozen times, so January is always an amazing time of year for my friends and me because it means two things: Christmas is finally over and DRAG RACE IS HERE! It's different this year because I get to be inside my favorite show– and I hope my makeup holds up in HD.
MS: If you win RPDR Season Five, what's the first thing you'd buy with the $100k?
AT: I'd buy 100 thousand slices of pizza!!
MS: You're ringing in the New Year in Seattle…any resolutions for 2013?
AT: In 2013 my resolutions are to drink more, eat less, and become a POWER BOTTOM. New Year's in Seattle is going to be AMAZING!
———————————————————————————————
If you'd like to  be the first to break in Alaska in her new role as a Power Bottom, you need to grab your tickets to "Hey Tranny It's Tranny vs Party Schmarty" at Neumos happening this Monday night brought to you by Nark Magazine!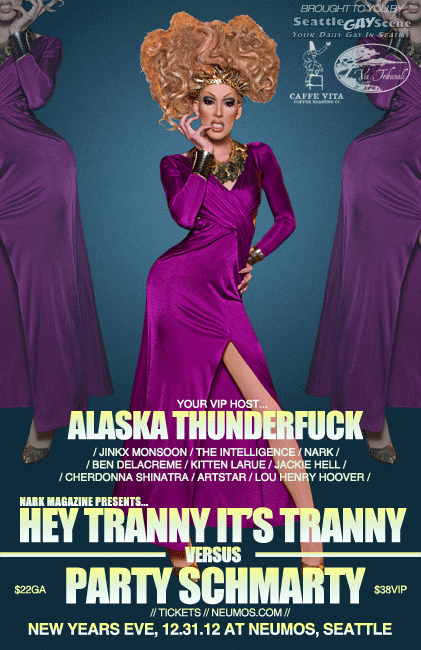 (Visited 1 times, 1 visits today)