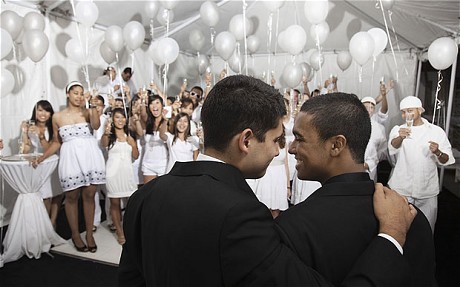 Regardless if you plan on tying the big ole same sex wedding knot yourself, who the hell doesn't enjoy a wedding reception? It's a terrific opportunity to dress up and get drunk and dance with crazy old people like your Great Aunt Tillie. And, as a guest, you have few obligations other than bringing a toaster as a gift and trying (a little bit) to not have oral sex in a restroom with a groomsman or a bridesmaid.
Now, thanks to the passage of Referendum 74, not only can brides and brides, and, grooms and grooms get legally married in Washington, all the rest of us can attend legally recognized same sex wedding receptions!
YAAY!
Same sex couples in Washington can begin applying for marriage licenses on Thursday, December 6th and after the mandatory three day waiting period, actually get married on Sunday, December 9th. As a result, a whole slew of folks plan on being at Seattle City Hall this Sunday to attach the old ball and chain, (with four delightful mini-chapels designed by noted Seattle scenic designer Jennifer Zeyl to choose from).
Afterwards, everyone can head to Q on Capitol Hill for a very special "Big Gay Wedding Reception" hosted by Dan Savage and Terry Miller, with DJ Riz Rollins and some special guests. There will be all the things you'd expect from a wedding reception: teary eyed first dances, cake cutting and champagne toasts, PLUS the  benefit of NOT having to bring a gawdamned Williams/Sonoma toaster AND the joy of free reign to hit on groomsmen and bridesmaids, though we're guessing that Q would probably prefer you not get nekkid in the restrooms. (Then again, they DID put in those HUGE stalls…which might explain the lines sometimes to USE those stalls for legitimate purposes.)
The fun is happening from 6pm to 10pm at Q, 1426 Broadway (at Pike Street) on Sunday, December 9th and there is no cover but you're encouraged to donate to Freedom to Marry to help get marriage equality in the other 41 states.
Now, sing along with me!
Goin' to the chapel…gonna get married…
Or:
Goin' to the weddin' reception…gonna get plastered….
Whichever rows your boat!
Tags: Big Gay Wedding Reception, Q