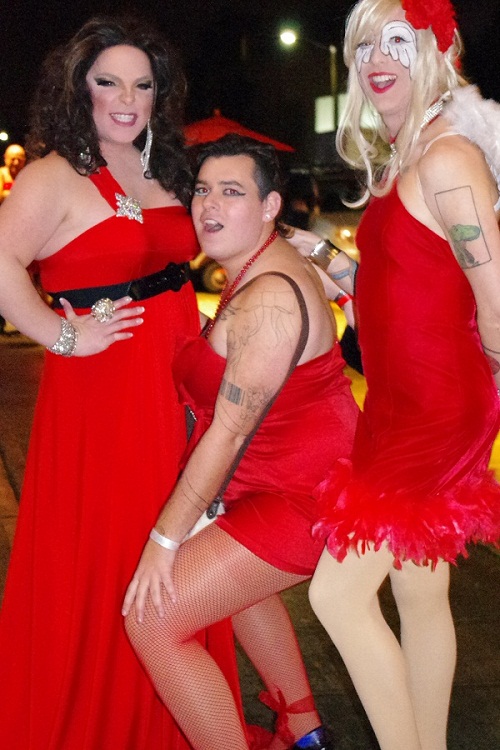 Yes, the clock is ticking until the doors open for the 5th Annual Seattle Red Dress Party benefiting area non-profits who fight the good fight for those battling AIDS/HIV. The party kicks off at 9pm at Fremont Studios, 155 N. 35th Street in beautiful downtown Fremont with the after party happening back on the Hill at Q with DJ Almond Brown. A few tickets are still available, and a little bird told me that if you email seattlereddressparty@gmail.com you could get a discount code to save some money on those tix…don't tell them I told you. You can also just head to Brown Paper Tickets to grab them or hope they have some at the Door!
You also have time to whip up an outfit…it ain't that difficult kids. Run to Red Light or Value Village or Goodwill or Two Big Blondes and snag yourself something ready to wear, OR, just find a large enough piece of red fabric (sheet, tablecloth, anything!) and artfully drape, staple, glue it around you…it ISN'T rocket science! No need to have a Mimi Imfurst style breakdown over the fact you can't sew!
Here's more info on the event…we'll see you at the party!
This years fundraiser will be BIGGER than ever with an amazing celebrity lineup including hostess for the evening, star of the hit BRAVO TV series Real Housewives of Atlanta, NENE LEAKES! Nene will be hosting the event from the main stage all night, and will be mingling with guests in the Absolut VIP bar.

Headlining the event this year is international recording artist ALEXIS JORDAN. Hot off her performances at this year's Winter Music Conference in Miami and White Party Palm Springs, Alexis is prepared to give Red Dress party-goers a show they won't soon forget. Her popular dance hits "Happiness", "Good Girl", and her NEW single "Acid Rain" from her forthcoming album continue to play in heavy radio rotation around the globe. Alexis is excited to come to Seattle and be a part of such an important charity event.

Red carpet arrivals hosted by Rupaul's Drag Race superstar and host of Seattle's ElektroPOP, MORGAN MCMICHAELS, who will also be performing on the main stage.

Music on the main stage will be provided by adult entertainment mogul and drag DIVA, the one and only DJ CHI CHI LARUE!

Additionally this year we have EXPANDED the venue to include a second room featuring a local showcase stage where attendees can experience music and entertainment from a selection of some of Seattle's own, including:

– BRET LAW
– RICHARD J DALTON
– L.A. KENDALL
– DJ LIGHTRAY
– KITTEN LARUE
– LOU HENRY HOOVER
– JAMIE VON STRATTEN
– ALEKSA MANILA
– KITTY KITTY BANG BANG
– ROBBIE TURNER

Other changes to this year's event include the addition of a silent auction, an outdoor area complete with bar and food truck, and the ABSOLUT VIP all-inclusive experience featuring a private on-stage open bar hosted by GAYSHA STARR where guests can meet and mingle with Nene Leakes, Alexis Jordan, and other headlining and guest entertainers.

The official Red Dress After Party will be hosted by Q Nightclub and will feature music from DJ ALMOND BROWN. Red Dress ticket holders receive free admission to the event and can keep the party going well into the early morning.
Tags: Chi Chi LaRue, Fremont Studios, Gay City Health Project, Lifelong AIDS Alliance, Nene Leakes, Q, Seattle Red Dress Party, sgsapp, Sinfinite Events