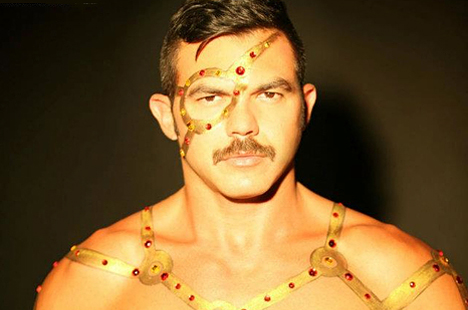 Speaking of New Year's Eve Weekend, Capitol Hill's newest (and only successful) new night club, Q is hosting a buttload of name talent this weekend. They're already hinting that "RuPaul Drag Race Season Five" star Alaska Thunderfuck is popping by (though, her main gig is at NEUMOS on Monday night for "Hey Tranny vs Party Schmarty") but she's apparently in the Pacific NorthWest for the whole weekend, so be on the look out for her at Q including tonight where she'll be a Special Hostess at "Gateway" with DJ Recess and guest, DJ Brian Lyons from Flammable. (Saturday night, Alaska and Jinks are bopping down to PDX for a show…)Doors open at 8pm and smart cookies know that if you show up before 10pm, it's FREE cover and $10 after 10. Also: the 18+ crowd can party after 2am.
Tomorrow (Saturday the 29th) another star from "RuPaul's Drag Race" pops up, but this one is a REGULAR on the show, and inclined to wear fewer clothes than the regular draggy cast…yes, our FAVORITE Pit Crew Man, SHAWN MORALES is a special guest Go Go boy for Saturday's "Playground" with resident DJ's Nark and Almond Brown doing the spinning. Mr. Morales is a beloved figure in L.A. nightlife, producing his own events, not to mention also being beloved for his sexy bod and his winning smile. (He is also slightly less loved for an alleged manfunk controversy…he got kicked out of his gym in Los Angeles after other members complained of his delicious body odor. We don't think that will be an issue in Seattle. There are plenty of manfunk lovers in the Emerald City….) The same rules apply as Friday night…doors at 8pm; no cover until 10pm and $10 after, and the club goes 18+ after 2am. SQUEEE!!!!!
The big deal event is Monday's HUGE NYE party at Q with very special guests (all the way from Spain) Chus & Ceballos and live music from Glitterbang. And, if you're looking for a ritzy tit VIP experience, Q has the real deal…check out the poo:
Q Nightclub presents our New Years Eve blowout, featuring the legendary Chus & Ceballos, opening with live band Glitterbang, and DJ support from Dana Dub and our Friday night resident, Recess, and a visual firework display by I WANT YOU.

Limited VIP tickets available!

First 300 GA through the door receive complimentary swag bags

-VIP Perks:
Personalized mezzanine access, full access private bar, OPEN BAR 9-11PM, swag bags, free Redbull and snacks, champagne toast w/ Veuve Cliquot, line skipping access

Interactive Visual Joy by I WANT YOU (iwantyoustudio.com)

————————–————————–————————-
-Headliner
CHUS & CEBALLOS (Spain)
On the road since 2002 Chus & Ceballos are nowadays one of the most prestigious and successful production and remixing pair in the international electronic scene.

In the words of the legendary Danny Tenaglia, Thank God for Chus & Ceballos! Truer words have never been spoken!

-Live Band
GLITTERBANG
Local synthpop band Glitterbang opens with an energetic live set at 9pm

-Supporting DJs
DANA DUB & RECESS
————————–————————–————————

Q NIGHTCLUB
12.31.12
8PM-CLOSE

Advance Tickets: $40 GA / $130 VIP

TICKETS: http://www.strangertickets.com/events/6836115/q-nye-chus-ceballos-glitterbang-dana-dub-recess
Fancy, star studded fun!
Meanwhile, at The Social…I haven't a clue.
Trashy straight people from Kirkland and Kent and a bag of party favors from Big Lots?
Tags: Alaska Thunderfuck, Chus & Ceballos, Gateway, Glitterbang, NYE, Q, RuPaul's Drag Race, Shawn Morales, The Playground