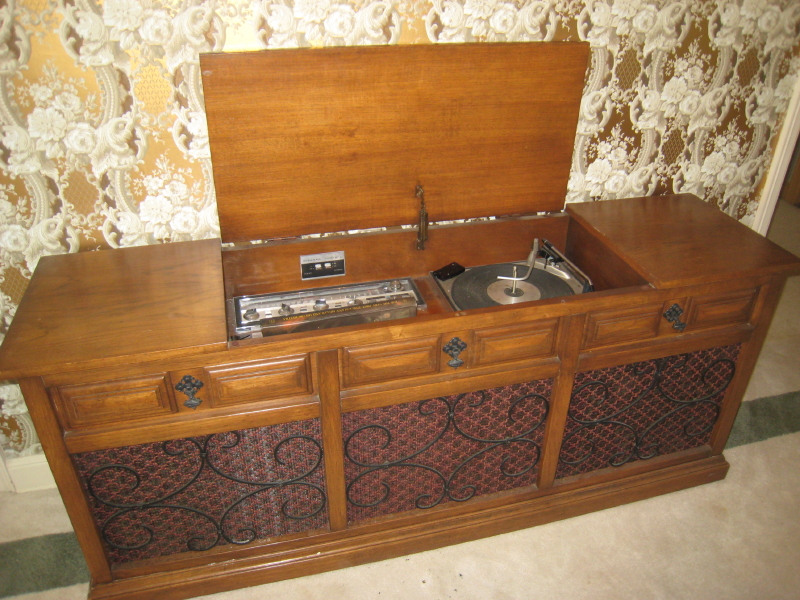 When I was a kid in the 1970's I would ask for records every Christmas. We had one those big ole stereo consoles with a turntable, radio, 8-track tape player and crummy speakers. My parents were not the type of people that were into new technology (they didn't get a VCR until I bought one in 1990) so we had that same stereo until it died, which was well into the 80's.
When I was a kid in the 1970's I would ask for records every Christmas. We had one those big ole stereo consoles with a turntable, radio, 8-track tape player and crummy speakers. My parents were not the type of people that were into new technology (they didn't get a VCR until I bought one in 1990) so we had that same stereo until it died, which was well into the 80's.
In the 1980's, I asked for my own stereo with a cassette player and some tapes. I loved that stereo. It was much more compact, had a turntable, a radio, a cassette player and better speakers, but still pretty crummy sounding. As most of us remember, back then you would record songs off the radio.
The kicker with my stereo was that it would pick up every sound in my room, and the house. On Sunday nights KCMU/C-89 (my old high school radio station that used to be good!) would play special live performances, remixes and unreleased tracks from bands like The Cure, Depeche Mode and New Order. Sunday nights I would beg my parents to be quiet upstairs and walk as little as possible on the creaky floor, then I would hunker down in my basement bedroom and record these shows of rareities and B-Sides. I loved Sunday nights.
In the mid 1980's, Compact Discs became the new way to listen to music. I didn't get my first CD until 1989, for Christmas. This meant my parents had to buy me yet another thing to listen to music on. My stereo was still fully functional at this point, so they got me a mini boom box that played CD's and radio. I loved not to having to rewind and fast forward tapes.  You could just push a button for the number of the song you wanted to hear.
These days I ask for I-Tunes gift cards for Christmas where you can get a song at the press of a button. I still use my stereo that plays records, radio and has a dual cassette player (not my original one as that has been gone for years), and has great speakers! If I play CD's, which isn't much these days, I play them through the DVD player. I don't know if they still sell full stereo units anymore, but I sure am glad they sell vinyl again! Funny how times change.
So now with Christmas completed for another year, we move onto New Year's and the hope for new possibilities. I have named  2012 as "The Year of Transition". We've been through alot of shit this year. Things we wouldn't have thought we could survive. So we can only hope, as we do each day, that things will get better.
In the music world we lost a lot of really good talented people this year. Some due to age, and others which were more of a surprise.
Whitney Houston, Donna Summer, Dick Clark, Etta James, Don Cornelius, and Adam Yauch (MCA), etc. MCA's passing hit me hard. I saw The Beastie Boys on tour in 1986 when they had released "License To Ill". Over the years I bought all of their records and followed their music every inch of the way up to their last record "Hot Sauce Committee Part II". I got to see them live a few more times over the years, and in 2006 I got the opportunity to meet them all. I kept my cool, but inside I was my former 13yr old self and could not believe I was standing in an elementary school classroom in Park City, Utah (a Sundance venue they used to screen films, when school was out of course) with the fucking Beastie Boys. Holy shit!
They were polite, but the only one that talked to me was Adam Yauch (he was always my favorite voice out of the three and the cutest anyways!). He was delightful and offered to put me on a guest list for the show they were playing that evening.  Shaking with excitement (not even kidding), I went to the show and stood at the front of the stage right below MCA, (it was a tiny venue so that was easy to do). You could have shot a harpoon into me that night and I wouldn't have even flinched, I was in heaven. I will never forget that night and the kindness he showed me. Thanks for being awesome MCA.
Two other passings that hit me harder, and were much closer to home were those of Joe Albanese and Drew Keriakedes from Circus Contraption. In the 2000's, one of my roommates was a member of the band Circus Contraption, and  introduced our whole house to Joe & Drew. We were never close friends, but we
spent a handful of evenings drinking, smoking and talking the night away. They were sweet, friendly guys that were just fun to be around. I feel lucky to have spent time with them, even the small amount that we had. They made me laugh and I'm glad to have those memories. Thank you Drew & Joe.
And with all the loss and devastation of 2012 somehow we move forward, as we always do. We are so lucky to experience these sounds, to be in this time. These people have left us their gifts of music and spirit, that will always live on.
And so onto 2013 we go.
What do we have to look forward to in 2013? I'm sure plenty of good stuff, but one of the coolest things happening next year is the long awaited Fleetwood Mac tour! Yay!!!! The original members of the 70's incarnation of the band will be playing with the exception of Christine McVie. It 's too bad, but we will be getting the Buckingham/Nicks combo that made Fleetwood Mac magic. So far this is all I got, but isn't that enough? It's Fleetwood Mac, what else do you need??? Ok, you may not be excited as I am, but darn it, I will find something for everyone as the year goes on.
For the past few weeks  I have been racking my brain about what to write in a  review of 2012. Do I do a "Best Of"? My top pics for the year? Then the other night it hit me. I decided to focus on an album I grew up with, that helped me get through the kid years and opened my eyes to the world and to other people. If you have not heard this record since you were a tiny tyke, (or ever, depending on how old you are!), it's time dust this puppy off and take another listen!
Free To Be…You And Me was released in 1972 and was especially important at a time when the political and social climates were changing. The songs on this record teach tolerance, individuality and being comfortable in your own skin. It open your tiny little eyes to life, and taught us never to be ashamed of who we are, that we can achieve anything we set our minds to and to never feel limited in life by gender.
And here we are in 2013, 40 years later and wow, kids, we've come a long way! Sure we're still dealing with some the same issues, but darn it, who would have ever predicted pot would be legal? That's just nuts! (in an awesome way!)  And legalizing  gay marriage??? I could not have been more proud of my home state for finally recognizing what should have always been a basic human right, the right to marry whom you love.This album helped shape us kids into people that accepted one another and made us see there were others out there that understood us and how we felt. Free To Be… is still in print and I highly recommend getting a copy of it to play for your kids, nieces, nephews, friends kids, or just yourself! With all the madness going on in the world today, a listen to this record sure would help kids know that they are not alone, and help adults to remember a time when we were actually working toward all around human tolerance rather than against it. At least that's what I would hope!
Song Of The Week:
Little River Band "Cool Change" – Ok, if you search this song on YouTube you get a lot of ocean and dolphin videos that people have made themselves. Gag! The band doesn't have an official video that I can find, so here's a link to a live performance. Yeah yeah, it's a bit corny but I love it! If you like it as much as me, pay the .99 cents and download it to get the real version!
Lastly, and not to get all sappy, but I just want to say I am grateful to the people (and my cats & turtles!) in my life, for the friendship and love they so kindly share with me. Life is just more fun with you in it and I am so glad to be here with all of you!
Happy Listening!
(Visited 1 times, 1 visits today)