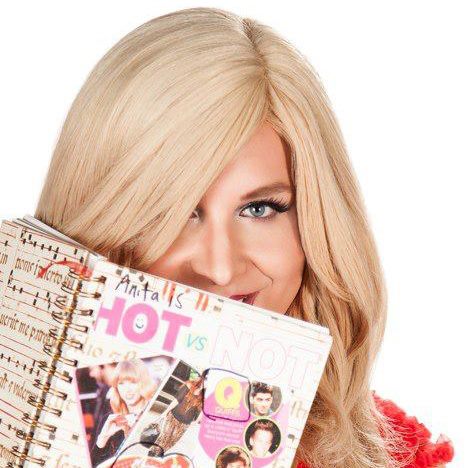 Seattle's "Queen of In-Between", Miss Anita Goodmann is back with her latest stage show, "The Secret Diaries of Anita Goodmann: True Stories from the Queen of In-Between" which starts a three day run at The Ballard Underground tonight (Thursday, February 7th) at 8:30 pm. It's a "one manwomanwomanman show" for the entire family! Here's the poo from the BrownPaper ticket page:
Seattle performing artist and comedian Timothy Thomas brings a unique storytelling show about lessons learned while spending time living and performing in his female alter ego, Miss Anita Goodmann.

Thomas, who turned to drag at the age of 37, changed personal tragedies into triumphs, surviving a divorce, single parenthood, and the loss of two well-paying jobs on the journey to self-discovery, self-reliance, and a new identity as a self-proclaimed "manwomanwomanman."

Directed by Brendan Mack, Artistic Director at STAGEright theater (Pirates of Penzance Off-Broadway, Haunted with Manhattan Theater Club), the show uses multimedia, extensive photo documentation, live songs, and stories, as Thomas delivers a comical look at what happens when the lines between life and theater, man and woman, and fantasy and reality become blurred.

A word from the performer: "I first appeared on stage in May of 2006 as Anita with the idea that I would probably perform for a few weeks and then go back to a more "normal" existence. I had no idea what it would mean to take on the mantle of "Professional Female Impersonator" and how it would impact my life.

Anita Goodmann has brought me revelations about my identity, my career, my dating life, my understanding of the interactions between men and women, self-discovery, self-growth, self-acceptance, and what it means to be on the forefront of an unexplored frontier at the nexus of gender in a new millennium.

Under the direction of Brendan Mack, I will be performing two acts filled with funny stories, multimedia, singing, audience participation, and humor that will reveal who I am, and why I do what I do."
Please Note: The Ballard Underground is difficult to find on your first visit. It's located on the main drag in downtown Ballard at 2220 NW Market, Lower Level in the middle of the block underneath a record store. Give yourself time to find it, so you can discover ALL of Miss Goodmann's exciting little SECRETS!
(Visited 1 times, 1 visits today)