Pesky actor/cartoonist/perpetual self-promoter Mr. CRAIG TROLLI is, as usual, HOUNDING us to promote one of his events, in this case it's FRIDAY LATE NIGHT with Anita Goodmann and the Puppet Burlesque Society a new late night travesty involving drag performers, burlesque stars, puppets and the West of Lenin venue over in Fremont. (It also happens Saturday night as well…). Mr. Trolli who "performs" as "Anna Rexia" in drag and also enjoys channeling the divine muse, Tori Amos, tagged us on Facebook with this whiny plea for attention:
If Michael Strangeways were going to plug FRIDAY LATE NIGHT with Anita Goodmann and the Puppet Burlesque Society for the SGS, he'd say something like, "Anita Goodmann, who should be on RuPaul's Drag Race, and Anna Rexia, who should not, team up to bring you…(copy/paste from press release)…and now here's a naked picture we photoshopped of Ryan Gosling, you're welcome!"
We were flattered that Mr. Trolli singled us out for attention, but then we noticed he sent the EXACT same message to our frenemy/archrival/Hedda to my Louella, Miss Adrian Ryan.
Also: NO naked photo of Ryan Gosling.
Really, beeotch?
Anyway, we plugged the damn show, which is actually probably pretty entertaining in a draggy, burlyq, dirty puppet show sort of way and at least crazy Miss Goodmann is professional enough to hold it all together and keep Lady Trolli from flying off the rails into LaLa Land. Here's what Anita has to say about her big show:
FRIDAY and SATURDAY at West of Lenin in FREMONT (Half a block west of Piece of Mind, stoners) we will travel to DARNIA where Anita is trying to find a buyer for the timeshare she bought in the Evil Queen's castle. She will dodge innuendo, insults, drag queen assault, and interact with puppet Devil and puppet Puppy! Plus Queens, Queens, Queens with Sparkle Leigh, Anna Rexia, and MORE! $15 and LATE NIGHT (so funny, dirty, and right to the basics stagecraft!)
West of Lenin is located at 203 North 36th Street in lovely Fremont, across the street and down the block a bit from the 7-11.
And, this is the only event we're plugging for tonight 'cause there really isn't anything else of much interest going on that we haven't already discussed (Brown Derby's parody of THE LOST BOYS continues at Re-bar Friday and Saturday as well…)
Now, here's a tiny, hot, fan art nude image of Ryan Gosling: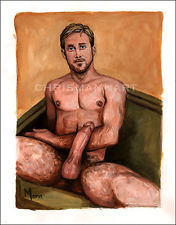 You're welcome.
(Visited 3 times, 1 visits today)