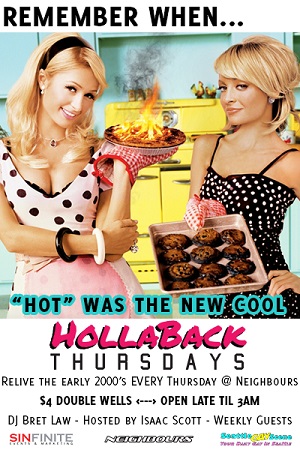 The gorgeousness happening outside tends to make us forget about indoor fun but after it gets dark you need something to do…Tonight, Thursday, May 1 (Happy M'aidez! Don't Break Nice Businesses Windows!!!) you have yummy choices, including:
A Very Special Edition of Seattle Pride's PRIDE IDOL venturing away from Neighbours and taking up residence tonight at The Baltic Room from 8 pm to 10 pm. Hosted by Olivia LaGarce with very special judges gettin' all judgy on the singing stars all vying to win the huge Grand Prize….FUN!
After Pridol, stick around for the weekly dance party REVOLUTION at The Baltic Room with hosts DonnaTella Howe and Kitty Kitty Bang Bang, the "largest, gayest, free Capitol Hill hip hop dance party"….IN THE UNIVERSE!!!!
And/or, head to Neighbours for HollaBack Thursday, the new "turn of the century" dance party from Sinfinite Productions hosted by Isaac Scott. MORE poo!
HollaBack Thursdays is taking you back to an era of 100% PURE FUN! Join us EVERY THURSDAY as we pump out a dance party with all your favorite JAMS of the early 2000's

OPEN LATE TIL 3AM! $4 DOUBLE WELLS ALL NIGHT LONG!

Featuring:
> DJ BRET LAW (www.DJBretLaw.com)

> ISAAC SCOTT (www.facebook.com/isaac1scott)

Special Guest Performer: ALESSANDRA HUNT

Music from 1997-2007 including: Madonna, Backstreet Boys, Cher, Britney Spears, Nelly, Mary J Blige, Tony Braxton, Janet Jackson, Venga Boys, Beyonce, 50 Cent, Justin Timberlake, TLC, Usher, Gwen Stefani, Sugar Ray, Savage Garden, Next, Mariah Carey, Brandy & Monica, Outkast, Deborah Cox, Blackstreet, Genuine, N'Sync, and SO MANY MORE!

– Pop Up Photos

– Isaac Scott's "Kodak Moments"

– Doors at 9PM

– $3 Cover (FREE BEFORE 10PM)
Finally, it behooves us to mention that the lovely Mr. Ian Bell's Brown Derby Players are back onstage at Re-bar with their spring travesty of all things cinematic. This time, they date rape the seminal 80s film classic, THE LOST BOYS!!!
Ian Bell's Brown Derby Series opens it's exciting 2014 season with a "ridiculously staged reading" of THE LOST BOYS: Before teenage vampires were moping around Forks, WA, they were riding motorcycles on the beaches of Santa Cruz, CA, and now – FOR 3 NIGHTS ONLY – they're coming to Re-bar! Featuring the talents of Scott Shoemaker,David Gehrman, Shane Wahlund, Jason Sharp, Adé A. Cônnère, Josh Hartvigson, Freddy Molitch, Spencer Thorson, Cory Nealy, Ross Whippoand Ian Bell!
MAY 1st, 2nd, & 3rd, Doors 7:00, SHOW 8:00, Re-bar SeattleSeattle Tickets $20 Cash D.O.S. 21+ W/I.D. – No pre-sales nor reservations – ARRIVE EARLY TO GET THE BEST SEATS FOR YOU AND YOUR FRIENDS! http://brownderbyseries.org/
DEE-LISH!
GO! DO SHIT!!!!
Tags: Brown Derby Players, HollaBack Thursdays, Pride Idol, Revolution, sgsapp, The Baltic Room, The Lost Boys