Obviously, spoilers within! Proceed with caution!
The queens return to the workroom after Lineysha's timely demise after The Snatch Game. She was gorgeous, but her Celia Cruz couldn't save her perky ass.
Ivy congratulates Jinkx on her victory, and Roxxxy sure hates it when Jinkx gets more attention than her, apparently. At this point, Jinkx has had enough, and gets REAL tired of Rolaskatox being a vacuum for attention. Jinkx throws down, by warning that she should be taken as a threat. Unfortunate editing cuts to her napping on the sofa. But we all know the Jinkx is not to be trifled with.
Back to the workroom for a brand new challenge! Contestants are challenged to put on makeup in the dark – shouldn't be new for too many of these heifers! All of them don't do TOO awfully except for Alaska's obvious humor-filled fright face, but it's Detox that wins for least shitty paint job. Jinkx's hilarious reference to Death Becomes Her blips on the screen, and everyone at our little screening laughed our asses off. Do you remember where we parked the car?
For the main challenge! It's a "We Are The World" grade inspirational anthem entitled "Can I Get an Amen?" Detox, as winner of the mini-challenge, gets to decide the make up of the three teams. Naturally, RoLaskaTox forms one team, Jinkx, Ivy and Jade form the second team, and Coco and Alyssa are forced to work together again – no shade there at ALL! Detox can deny all she wants, but it's a competition and it's a strategic move. Deal with it.
Of course Alyssa and Coco are assigned the first verse, Coco complains about that, of course. Jinkx and her cohorts are given verse two, and RoLaskaTox are going to take it to the bridge… hmm… that's a little worrisome… Commercial Break!
Awful Avenue Q safe sex ad pops up on TV. Mr. Strangeways may like puppets, but I think they're creepy as hell. Especially when the one looks like a leather-daddy version of Ernie. Not cute.
Back in the workroom, they're working out their 80's look and the lyrics for this 80's-esque anthem to a song that illustrates the manner in which Drag can save the world – one squashed scrotum at a time! Alyssa, somehow, seems to be extending a hand to Coco who is REAL over the challenge. Jade seems to be floundering when it comes to creativity, in general. Ivy and Jinkx seem fine, but Jade's gonna hurt. RoLaskaTox is a little troubling. Alaska seems to have a concept of what it is to carry a note, and we've heard Detox sing before (Boy is a Bottom? anyone?) but perhaps that was via the miracle of Auto-Tune.
Ru visits, and Alyssa shows her lack of voice. Coco isn't looking TOO much better, but they seem to be getting over their drama (dare to dream???) Ivy and Jinkx share that they're both singers, and Jade is not. Over at Team RoLaskaTox shows signs of a schism in the temple. Is Roxxxy dead weight here?
Over in the studio, Lucian Piane (how YOU doing, Lucian?) attempts to direct the recording session. Coco is three kinds of pissed to be starting it off, because she feels like she's being set up by Detox… seriously girl, stop being a victim. Alyssa missed her cue. Can't help feel like Alyssa and Coco have been set out to drift on an ice floe. Jade, well, she sucks, Ivy and Jinkx kill it – voice, voice, voice and certainly the most interesting part. Jinkx sets herself apart by being good and utilizing her talent, and Roxxxy's all butthurt because of Jinkx's "gimmick" is getting her by. Um, Gimmick? No honey, that's called talent.
Rolaskatox pick up the bridge – and Roxxxy can't sing for shit… and thinks that a dress is "sequenced"… dead silence. SEQUINS. Something can be SEQUINED, meaning covered with sequins. Girl… damn. Roxxxy really isn't all that smart, is she? Detox, for some reason, isn't much of a voice, and is just playing around. Alaska actually can sing, who knew?
All the girls are set to do a little freestyle verse to lay over the edit. You know, Alyssa can't sing, but by god she's selling the HELL out of it. Back to the workroom, some shit's about to go off. Coco's being passive-aggressive, and annoyed at Detox, and Detox ain't having it! Oh god, Coco feels ganged up on. Lord… rise above it Coco!
Getting ready for the runway, Detox actually discusses her plastic surgery… she's been siliconed, filled and tightened. Quote of the night? "I'm walking Tupperware." Thanks Detox.
Jade gets an emotional moment in the workroom, and if watching reality TV has shown us anything, it's that whenever someone gets that much of an emotional profiling in the video, then they're probably going home. We learned that from Project Runway!
On to the runway looks, featuring their "best parts"…
COCO – Serving some Sharon Needles realness, but giving her heart. Aw… that's almost sweet.
ALYSSA – is all legs in a scarfy caftan. Jinkx wore it better.
JADE – selling arms, but all we can see is the cheap hair coming out of her everywheres.
IVY – Adorable in a dress made of her own headshots. A little sloppy in the execution, but it's clever as hell.
JINKX – Bringing the heat in a gold baked potato dress – they wanted glam, and that's pretty damned glam!
ROXXXY – TITS TITS TITS! HAIR HAIR HAIR! And not much else…
ALASKA – Lavender, too tight. She's doing her hobble/shuffle that we're oh, so familiar with…
DETOX – Leather gown hotness and BAM! ASS ASS ASS!
Here's the video! Oh my… it really is only Jinkx and Ivy who can really carry a tune…
Let the judging commence! It's the Pointer Sisters and LaToya Jackson joining the panel this week! Michelle gets the crown this week for toughest reader. Including a warning to Roxxxy, Detox and Alaska about the dangers of cliques, and an outright breakdown of Alaska. And it was fair! Alaska has been holding back on showing her true self the entire time, and it's finally sinking in. Good, because Alaska is better than that.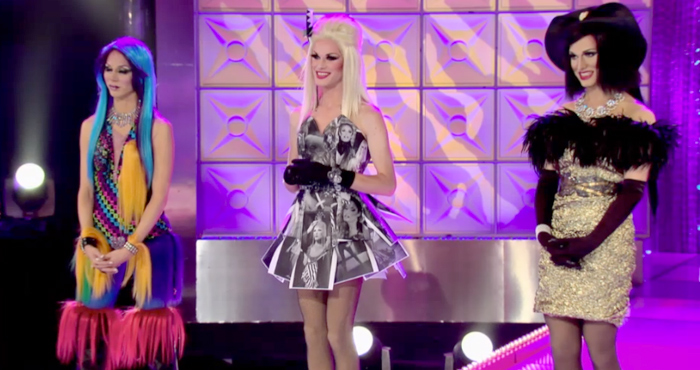 The winner? Ivy. Frankly, had Jinkx look been tighter, she'd have taken it handily.
In the end, Coco and Jade are in the bottom, and from a thousand miles away, we can tell that Jade is out. At this point, I think we can safely say that the dead weight is finally gone, and the remaining seven will battle it out.
On Untucked, we get a WEEPY Skype call from Alyssa's dad, with whom she has a rocky (to say the least) relationship. Dammit! That's why this show is changing the world. If an old redneck from Texas can bridge the gap with his VERY gay, drag queen son, then the rest of the world can't be that far behind…
RuPaul's Drag Race is on LogoTV every Monday night. Check your local listings for airtimes.
(Visited 2 times, 1 visits today)