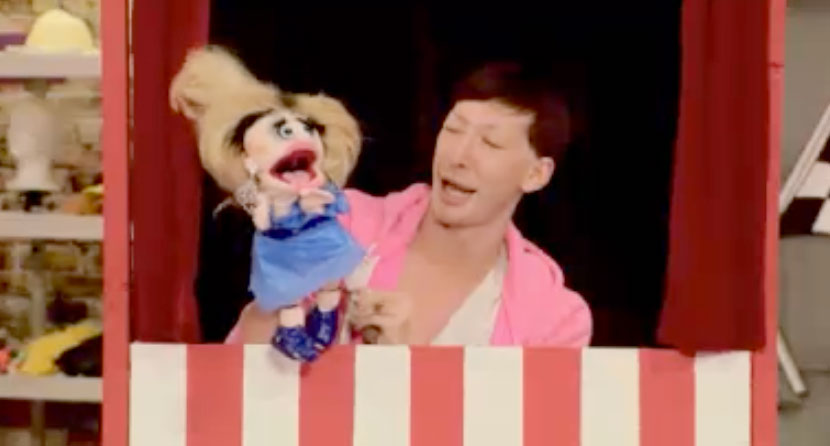 Detox workin' that puppet!
So, we've taken a few weeks off from re-capping RuPaul's Drag Race – getting busy with some other lovely SeattleGayScene surprises coming up (you know about the big thing coming, yes? We'll tell you later…), and frankly, we were in that dragging (no pun intended) part of the season where were seeing the same Coco vs. Alyssa mishegas over and over, but in that time we lost the ADORABLE Ivy Winters (on whom Jinkx confessed a wee crush) and the VERY overdue dismissal of Alyssa Edwards and Coco Montrese. All very talented queens, but it is a competition, after all!
The final four end up being the dreaded Rolaskatox and our own Miss Jinkx Monsoon, and, obviously, Roxxxy immediately starts coming for her. It's understandable Rox – you're a Florida queen whose entire career is attached to your look, no girl, it's cool… we understand. We've seen you try to perform, sing and be funny… yeah… we saw that.
Mini-challenge! It's a Bitch-Fest with Puppets… regular readers know how I feel about puppets. But I know I'm in the minority, so I'll let that go for now, because Mr. Strangeways loves him a puppet. Puppet regime, maybe…. </shade>
The remaining four are assigned puppets representing each other, and of course Roxxxy gets Jinkx. They're given time to dress their puppets to satisfy their comedic needs, and naturally Roxxxy sees this opportunity to read down Jinkx as her greatest work ever – seriously, this episode is going to be all about Roxxxy going after Jinkx like a schoolyard bully. This isn't gonna be cute.
The puppet show begins. Jinkx does Detox to hilarious effect, Detox does Alaska hilariously (including black roots on her puppet's wig) as a whiny girl, next is Roxxxy going after Jinkx trying to make her into an insecure child, and again stops being funny and just makes it mean and stupid. Alaska wins with her puppety portrayal of Roxxxy, highlighting her eyelash abuse, and addiction to reveals and layers of hair.
This challenge is a multi-look challenge – the queens are asked to make three looks: Super Duper Sweet 16, Sugar Mama Executive Realness and Candy Couture. Not sure if they're ALL supposed to have candy involved, or if it's just the last one.
Roxxxy is CONVINCED that she's the only one that can sew (aw…), and now Detox is coming after Jinkx for her Alexander McQueen inspired antler headwear. Granted, if you're going for McQueen, the Antlers MIGHT be a bit on the nose (taken from multiple seasons of design since the 90's) but it has a lot of potential in her Christmas Candy situation. But, let's be real now – Jinkx isn't known for her design ability. One can only have SO many talents available to them, after all…
Ru visits… Jinkx is selling Christmas In July, Candy Cane and Reindeer Monster… okay, so I'm a little worried here now. It looks like Candy, but I'm thinking the challenge is about making things WITH candy…  Detox's look isn't happening yet, and she seems to be stuck on acid green – way 80's. Roxxxy seems to be creating a giant pink, sopapilla with candy necklaces glued on it.
AND TWIST! They girls are obliged to put together a little opening number choreographed by Alaska, since she's the winner of the mini-challenge. Worry ensues, immediately, as Alaska has proven to be a less-than-stellar dancer. Eek…
Reconsidering happens. Roxxxy scraps her idea, and starts working with shoestring licorice, Jinkx whips out a hammer and starts pounding out hard candy to make sweet glitter.
Choreography on the Sugar Baby number begins – Roxxxy is going for any chance to be a bitch, Detox can't be bothered to be helpful. They're making sure if this dance is a shit show, then it's all going to land on Alaska's head.
Back to the workroom – nerves seem a bit frayed, Jinkx is nodding off while working on her hoop skirt situation, and Roxxxy is enjoying it just a little too much. Granted, editing can make it look more dramatic than reality, but they're really making Roxxxy look bad here. Hard to say if that's fair… but then in the confessionals, Roxxxy gives up any hope we had of not thinking she's a complete bitch. I get that everyone's threatened by Jinkx, but they're forgetting that the best option is just to do better.
Poor Alaska's dress is exploding in the workroom – she's gonna have to scramble to get that together.
On to the runway!
Judges are Marg Helgenberger (adorable!) and Bob Mackie, who i think might very well be my spirit animal.
The opening "Sugar Babies" number is cute, but a little simplistic… probably a good choice that Alaska didn't get into anything too extravagant, or it could have gotten grim.
Super Duper Sweet 16 looks: 
Alaska is adorable, but I wouldn't think the Little Black Dress would be the choice of 16 year olds.
Jinkx brings out some hippie chick cuteness… not sure it's gonna sell.
Roxxxy looks like a hooker who thinks she's adorable – "Sixteen Going on Sickening!"
Detox is selling some 80's realness – she's kinda in love with the 80's isn't she?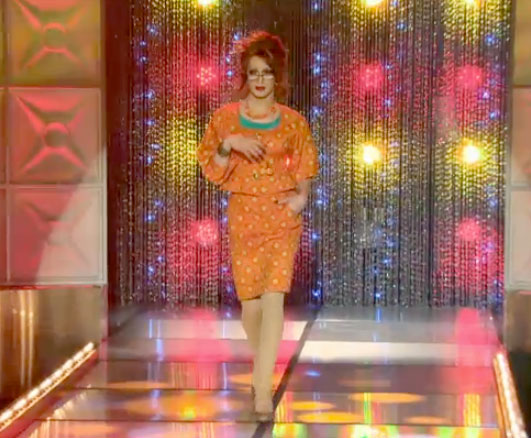 Executive Realness:
Alaska is working some lesbian couture pant suity ness… tres chic.
Jinkx in her best sexutary look. LaCroix, sweetie!
Roxxxy looks like a lawyer's wife, but very cute!
Detox rocks Thierry Mugler with some Glenn Close 80's hair.
Candy Couture:
Alaska got it together! Her pink confection is kinda brilliant.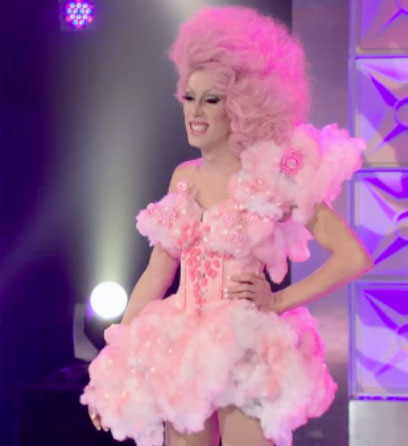 Jinkx's McQueen-esque look (sans hoop skirt) is pretty good, but it's a little light on candy.
Roxxxy's fringed licorice is moving adorably, but the tits are weird.
Detox's look, well, is just off. It looks hard to move around in, and she stumbles.
Adjudication begins! 
We can kinda see this a mile away, but Jinkx and Detox are in the bottom – was hoping to see Roxxxy go down, but hey, she sold it. She didn't make many friends this episode, but she did well in the competition.
Ru asks the girls who should go home? Jinkx says Detox, but the other three girls say Jinkx, naturally, because she's the biggest threat.
Best line from adjudication? Michelle Visage referring to Rolaskatox as Rolodex. Too funny – she clearly is NOT into the whole clique shit. Michelle, girl, you aren't alone…
Predictions are correct, Alaska wins, and Detox and Jinkx are sent to lip sync for their lives – Jinkx's first time, and what's the song? None other than Malambo #1 by Yma Sumac! If you've been to MIMOSAS WITH MAMA, you might have gotten to see Tipsy Rose Lee blow this number out of the water! And that is a HARD ASS number to get down… if you see a queen do it right, it's a genius number. And frankly, you've seen Jinkx do the diva's number from THE FIFTH ELEMENT at Bacon Strip haven't you? Yeah, it's hardcore.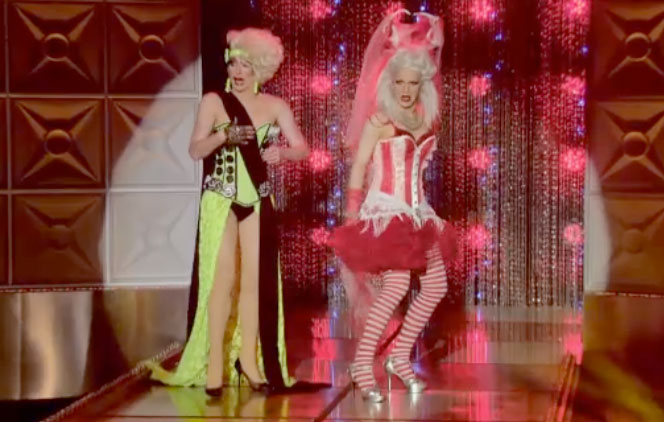 This song is WAY up Jinkx's alley, and she handily sends Detox home.
And there it is – the top three includes our own Jinkx Monsoon. Who didn't predict this one back in January?
(Visited 12 times, 1 visits today)