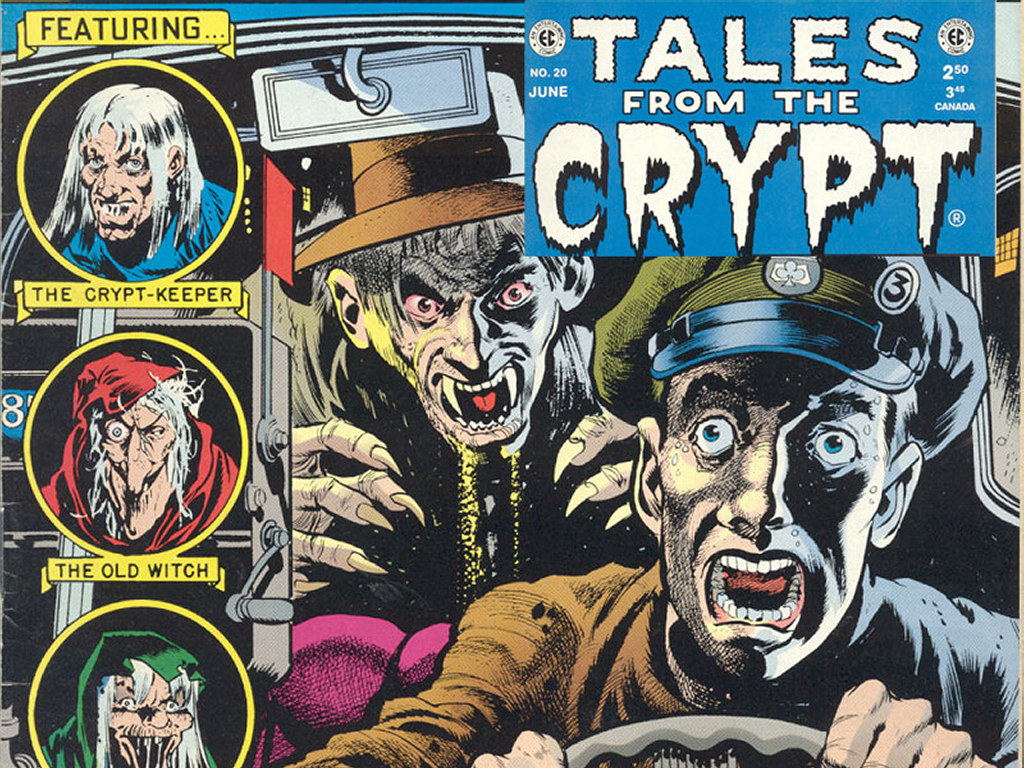 And, it does a funny dance.
(Note: Mr. Strangeways has actually witnessed this…my lips are sealed.)
Captain Smartypants is the adorable little brother of the Seattle Men's Chorus. The small ensemble has mixed comedy and song since 2000, delighting audiences all over the country, and tend to be a bit "naughtier" than their more family friendly big brothers in the SMC. So, it's not a surprise that "Smartypants" is going to the DARK side with their upcoming spring show, "Tales From The Pants", happening Fri/Sat, May 24 & 25, and, May 31 & June 1 at the Erickson Theatre on Capitol Hill.
"Tales From The Pants" is the Captain's naughty take on those deliciously morbid horror comics from the 1950's like "Tales From The Crypt" best known to younger audiences through the HBO series, or the Stephen King horror film, "Creepshow". Gorey, nasty and full of vengeful retribution that usually involved someone losing body parts, or, returning from the dead seeking a deliciously cold revenge, those comics delighted their young fans but horrified their parents.
The Smartypants take on the material centers on the individual members of the group sitting around a campfire telling their best ghost and horror stories, and being homosexual, show tune loving homosexuals, it always involves a toe tapping song. A cute interview over on the Smartypants blog explains what you might expect from "Tales From The Pants":
SMC:   Are these 'nightmares' stories from the 'Tales From the Crypt' comics?

CSP:   Well… yes, but with our own Smartypants twist. Let's see… there's a class of kids that gang up and kills its teacher for being boring ('Nevermore'); a serial killer that picks off teenage campers one by one ('Thank God It's Friday the 13th'); a family that resorts to cannibalism ('Arm Soup'); a traditional Mexican ghost story ('La Llorona'); an old vampire who has to use denture fangs ('The Cold Song').

SMC:   Are these stories funny? Or just gross?

CSP:   They're funny AND gross! Everything is done for comic shock value, so it's not like watching 'Saw' or anything. We like our audiences too much to subject them to anything like 'Saw.' Think 'Tales From the Crypt' crossed with 'Grand Guignol' and 'Goosebumps' with maybe a little 'Monty Python' and 'Kids From the Hall' thrown in.
You can read more of the interview over HERE, including info on Act 2 of the show which focuses on one story, "The Prom That Went Horribly Wrong". Tickets are available HERE for all six performances. The Friday shows, (May 24 & 31) are at 8pm. On the Saturdays, (May 25 & June 1), there are performances at 7:30pm and 10pm. The show is recommended for "Mature Audiences"….leave the kiddies and the chicken livered at home!
(Visited 2 times, 1 visits today)