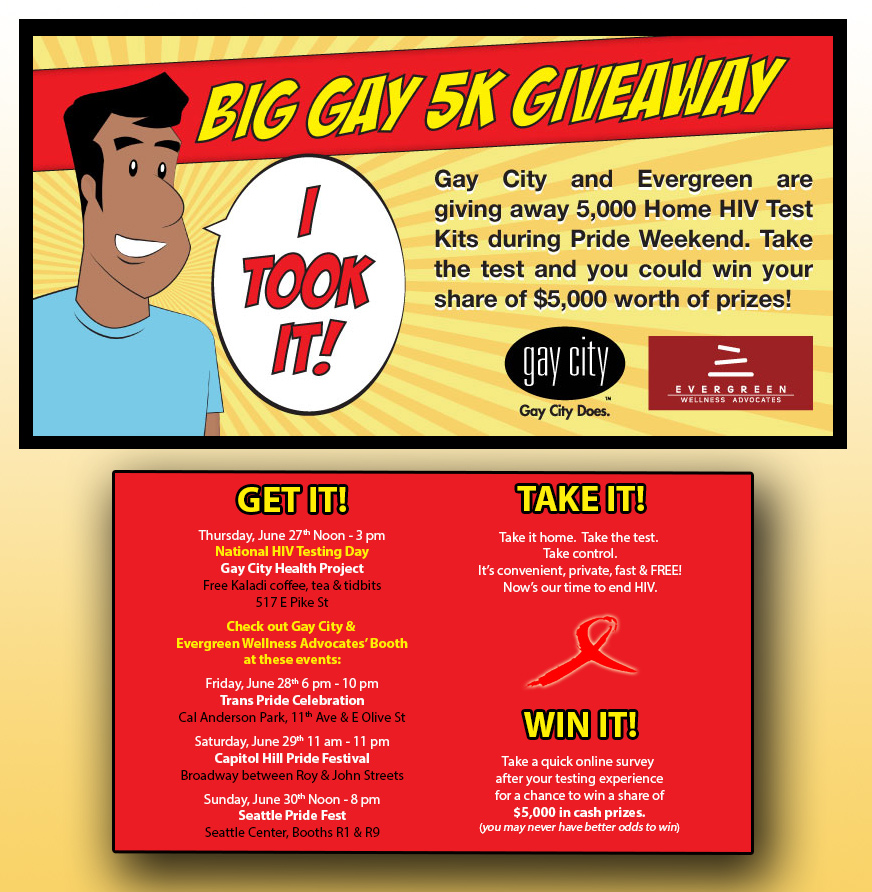 Everyone has health issues to be concerned about and it obviously varies from individual to individual and depends on many factors, like age, gender, sexuality, ethnicity, genetics and so much more. In the US, men who have sex with men are at a higher risk at contracting HIV/AIDS than any other demographic, (a statistic that is radically different in Africa and other parts of the world where HIV/AIDS is a huge risk for both men & women, gay AND straight.)
There have been enormous improvements in the treatment, prevention and detection of HIV/AIDS in the last few years, and one of the biggest advances has been in detecting the virus. Those of us dating back a decade or two can remember that LOOOOOONG wait between getting your blood drawn and the time you got the test results back. Now, the test is fast and easy…and, something you can do at home like a home pregnancy test. Our friends at Gay City Health Project have teamed up with Evergreen Wellness Advocates to make it VERY easy for Seattle men to get the test. Starting Thursday, June 27, 2013 and extending through Pride Sunday, June 30, Gay City and Evergreen will give away 5000 HIV home test kits…as well as a chance to win a share of $5000 in prizes, as part of the I TOOK IT! campaign.
Thursday the 27th is NATIONAL HIV TESTING DAY and this big giveaway kicks off at the Gay City HQ at 517 East Pike Street on Capitol Hill from Noon to 3pm with free treats being given away as well. It continues on Friday at Trans Pride at Cal Anderson Park, then moves to the Capitol Hill Pride event on Broadway on Saturday, before wrapping up at Seattle Center for PrideFest. At these three events, look for the Gay City booth to receive your testing kit.
Here's more info:
Gay City Health Project and Evergreen Wellness Associates are giving away 5,000 Home HIV Test Kits during Pride Weekend. Take the test and you could win your share of $5,000 worth of prizes!

GET IT

Stop by these locations over Pride Weekend to pick up your free home HIV test kit.

National HIV Testing Day
Thursday, Jun 27 / 12pm – 3pm
Gay City
Free Kaladi Brothers Coffee and Eats

Trans*Pride Celebration
Friday, Jun 28 / 6pm – 10pm
Cal Anderson Park

Capitol Hill Pride Festival
Saturday, Jun 29 / 11am – 11pm
Broadway between Roy and John

Seattle PrideFest
Sunday, Jun 30 / 12pm – 8pm
Seattle Center, Fisher Pavillion

TAKE IT

Take it home. Take the test. Take control. It's convenient, private, fast, and free.

WIN IT

Take a quick online survey after your testing experience for a chance to win a share of $5,000 in cash prizes. Details can be found in your test kit.

MORE INFO: http://www.itookit.org/

Gay City Health Project is a multicultural gay men's health organization and the leading provider of HIV and STI testing in King County. Our mission is to promote wellness in LGBT communities by providing health services, connecting people to resources, fostering arts, and building community. More info:http://www.gaycity.org/

The mission of Evergreen AIDS Foundation is to foster a healthy, hopeful and empowering community response to HIV/AIDS. More info: http://www.evergreenaids.org/
Any and all gay/bi men who are sexually active would be wise to grab one of these kits…early detection can save your life.
Also: it's free! Who doesn't love free stuff?
(Visited 1 times, 1 visits today)