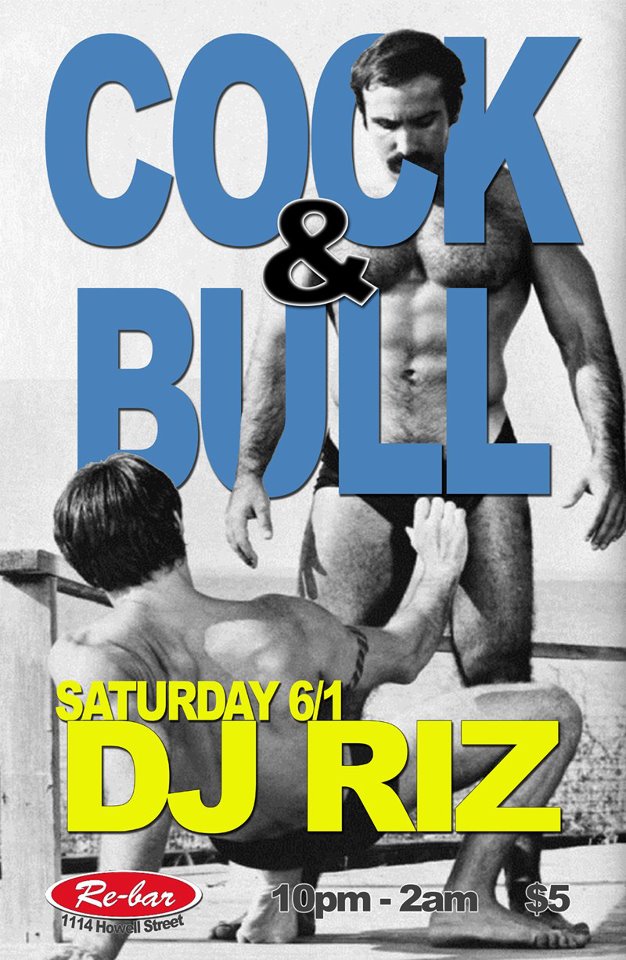 Oh, What A Beautiful Moanin'….Oh, What A Beautiful Lay!
Rodgers & Hammerstein WERE geniuses!
It's a real purdy start to June, aka Pride Month, aka "There's a whole lotta shit going on this month, so buckle up and prepare your ass for Lift Off!"
Today is Saturday, June 1 and the Big Gay Day of Service is going on as helpful homos and allies clean up all the trash on Capitol Hill…worried twinks, pass around party bottoms and Lady Dudes all flee to Madison Beach to avoid being scooped up into the Waste Bin. Other folks will be heading down to City Hall to check out the Pride Flag being raised for the very first time. It's a civic kind of day.
Night time is a different story as all the trash returns to the Hill for a night of frivolity and littering. There are a lot of options tonight…including, LUMBERTWINK at The Seattle Eagle. Yes, we gave the Eagle a FREE plug yesterday, but the name of this event is so awesome, they get another shout out. Obviously, it's a Bearishly inclined event and DJs Freddy, K.O.P and Pocket Rock It will be on hand from 9pm to 2am and there's a photo booth and those in plaid only have to pay $5 cover…those who ignore the plaid have to shell out $7. All we can say is: TIMBER!
Meanwhile, Michael & Shane will be gearing up for the third installment of their new monthly event, COCK N BULL down at Re-bar and this month's special guest dj is Riz Rollins with the usual assortment of gyrating go go boy/men and the demented video that Michael/Shane excel at…it's a 10pm to 2am kind of thing and it's only $5. The first two outings were hella fun…and, we're hard to please. If you like cute, hipstery, arty, furry and friendly dudes of all ages, it's right up your alley. Basically, like a private house party with funkier bathrooms.
Back up the Hill at Lobby, they're debuting a Brand New Event….HASHTAG WITH LILY ARMANI, a "live comedy pop-culture round up" with Seattle's sauciest redhead. More poo:
On the heels of the Pacific Northwest's MOST POPULAR Official Viewing Party for RuPaul's Drag Race comes Seattle's first and only weekly, LIVE Comedy Pop-Culture Roundup premiering at The Lobby Bar Seattle on Saturday, June 1, 2013.

Created and hosted by Seattle's most notable red-haired, acid-tongued comedian, Lily Armani – 'Hashtag' humorously dissects the hottest and most talked about topics, reality shows, celebrity fashions, and headlines in this LIVE interactive comedy series. Added to the mix is Armani's signature gift of gab and off-the-cuff improv conversations with the audience.

The sidesplitting laughter is the perfect start to your Saturday night adventure. Showtime 9:00 p.m. / FREE ADMISSION / Full cocktail and menu service.
This sounds like fun…and, something a bit different. Please check it out!
Over at Q, Resident DJ Almond Brown is on hand for RAPTURE with guest DJ George Delmar on hand to shake things up. We're always thrilled to recommend DJ George events…he's our favorite Daddy er, Slightly Older Brother. And, as always, if you get to Q before 10pm you avoid the evil cover charge. Perfect for the po' and cheap skates!
FINALLY, over at Julietta's on Broadway, the lovely Season Three RPDR contestant INDIA FERRAH is on hand for LeFudge tonight AND she'll be back there Sunday evening at 7pm to host the Emerald City Softball fundraiser SQUARDRON SHOWGIRLS. Even more poo:
Mark your calendars!
JUNE 2, 2013
JULIA'S ON BROADWAY
DOORS 5PM
SHOW 7PM
NO COVER

Our 5th Anniversary show will include performances by ECSA players from every division, Le Faux cast members, and other MAJOR surprises!
The theme of the night will be "Decades", celebrating women in music from the 70's to today.

We will have AMAZING prizes!
Julia's will have extra staff and food & drink specials.

Hosted by INDIA FERRAH
(RuPaul's Drag Race Season 3 & host of "Goddess" Las Vegas)
Performances by ISAAC SCOTT – KITTY KITTY BANG BANG – GABE SANCHEZ – FRAYA LOVE and players from every division in the ECSA!

This will be a very memorable host bar event!
We approve of hunky softball players draggin' it up…HAWT!
Oh, and remember that the Squadron Showgirls event is on SUNDAY, June 2!!!!
(Visited 1 times, 1 visits today)