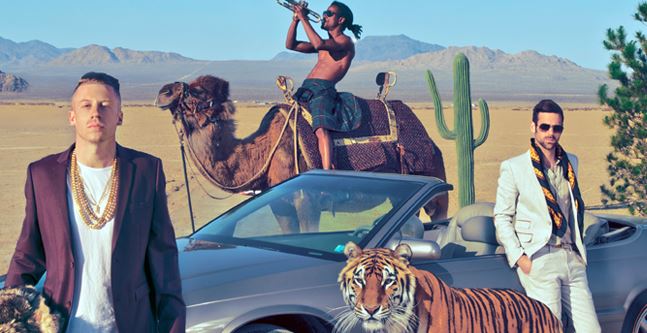 It's been buzzed about for the last day or so…rising musical superstars and Seattle natives Macklemore & Ryan Lewis are rumored to be doing an impromptu concert at the Dick's Drive-In on Capitol Hill this evening, Wednesday, July 24 around 8pm or so. The duo, whose huge success with songs like "Thrift Shop" and "Same Love" has led to both commercial and critical success and a worldwide tour that includes a three day stint in Seattle from December 10-12, 2013 (tix still available for the December 10 show) are definitely hometown darlings.
There's no official confirmation on the rumored concert tonight but Metro just announced they are rerouting buses that go down Broadway between 8pm and 11pm.
We've also heard rumors that they would do a concert at the Dick's in Wallingford. We're not sure if this means there will be MULTIPLE quickie concerts in one evening, or if it's just conflicting tales circulating around the InterTubes.
We guess our advice for Macklemore & Lewis fans is to hang around as many Dick's as possible in the next 24 hours…
In other M&L news, the duo are up for a MTV Video Music Award for the video for "Same Love". You should go over HERE to vote for it! (Frankly, we weren't aware that the public voted for VMA's…is that a new thing?)
AND, you can check them out performing at the Major League Soccer All-Star game in Kansas City, MO on July 29, 2013. It will be live streamed on the MLS website.
AND/AND Macklemore will sit down for a live interview at ACT's Falls Theatre on Monday, August 12, 2013 with Rap Radar's Elliott Wilson. Tickets are only $20 and surprisingly, they are still available at ACT's website.
Macklemore/Lewis fans have a lot to check out in the next few months…
Tags: ACT, Dick's Drive-In, Macklemore & Ryan Lewis, Major League Soccer, MTV, Same Love, Surprise Concerts, VMA's