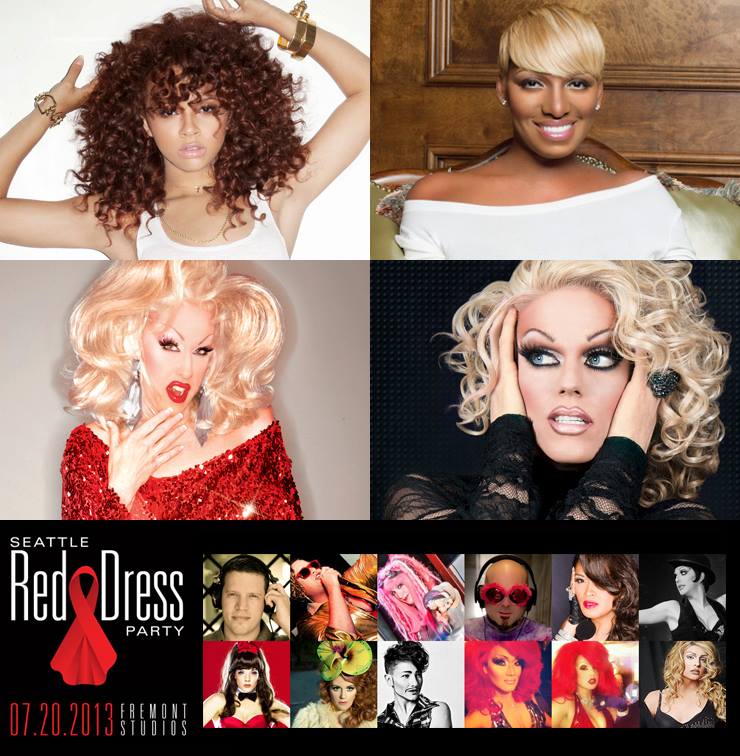 The 5th (Kinda) Annual Red Dress Party is only a few days away; the big gala fundraiser for area non-profits who deal with AIDS/HIV advocacy and assistance is happening this Saturday, July 20, 2013 at Fremont Studios. Headlining the event are singer Alexis Jordan, "The Real Housewives of Atlanta" star Nene Leakes, Drag Superstar/Adult Video Director Chi Chi LaRue as DJ and "RuPaul Drag Race" star Morgan McMichaels…not to mention buttloads of local performers like Gaysha Starr, Robbie Turner, Jamie Von Stratton, Kitten LaRue, Lou Henry Hoover, Aleksa Manila, and Kitty Kitty Bang Bang. PLUS, local DJ giants like L.A. Kendall, Richard J. Dalton, Bret Law and Lightray. There's a lotta entertainment bang for your entertainment buck.
If you don't have tickets, you can still grab them…HERE. If you need a dress, don't fret. Our advice is to head to Red Light, Value Village or Goodwill and check out their racks for red dress bargains…but, it might be wise to head to suburban locations to search since stores closer to the center of Seattle might be a tad picked over. We also recommend TWO BIG BLONDES, a consignment shop for larger lady fashions over in the Central District at 2501 South Jackson Street. The staff there are INCREDIBLY sweet and helpful and could care less if you're a dude looking for a party frock…they'll even hunt down things in your size! We adore them!
If all else fails, we suggest buying either red fabric or even old red curtains/table clothes/sheets and fashioning them into a quick homemade frock…if you can't sew, you CAN figure out how to staple/tape/glue/pin together a dress to last 5 or 6 hours…just make sure you got some drawers on underneath that hastily made garment, in case it falls apart! Throw some feathers, boas, rhinestones on it and accessorize the hell out of it to come up with your unique ensemble!
Oh, and you DON'T have to go in drag! Make-up, wigs, heels, hose, etc are not a requirement to gain entry…just a red dress! And, if you don't have red shoes, then just put on your comfiest tennis shoes. You're there to have fun, not win RuPaul's Best Dressed Drag Queen For A Night Contest…
Finally, the after party for this year's Seattle Red Dress Party is RED EYE with DJ Almond Brown at Q Nightclub on Capitol Hill (1426 Broadway). Q is open until the wee wee hours of the morning for your after party pleasure needs (obviously, without booze…) Admission is free with a Red Dress Party ticket, or $10 for everyone else, and obviously 21+ with ID!
Also: please have a designated driver or cab/Uber/town car it to and from the events…we don't want any nasty accidents…the only red we want to know about it, should be the color of your lovely frock.
(Visited 1 times, 1 visits today)