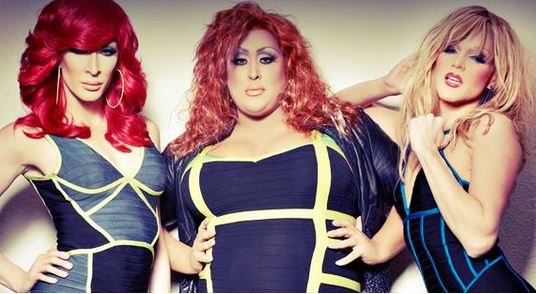 Viral video sensation DWV (the collective name for drag stars Detox, Willam & Vicky Vox) makes its Seattle Premiere with DWV: It's a Shit Show! This kinda-girl group will perform for one night only, Friday August 16th at Neighbours Nightclub 6:30pm-10pm. VIP tickets for a Meet and Greet with the queens after the show are available.
DWV: It's a Shit Show! combines live performances of the drag trio's viral video hits — including Boy Is A Bottom, Chow Down (at Chick-fil-A), Vagina Song, and Love You Like a Big Schlong — with sketches involving favorite gay movies (Showgirls, Pretty Woman, League of Their Own), comedy, stories, solo performances from drag stars Detox, Willam & Vicky Vox and much, much more.
DWV has close to 15 million hits on their viral videos The Vagina Song, Chow Down (at Chick-fil-A), Let's Have a KaiKai, Love You Like A Big Schlong and Boy Is A Bottom, which also landed them a spot in the Top Ten Billboard iTunes comedy charts. They're the first drag show to ever successfully perform in Dubai, escaping arrest twice (once before going onstage and once at Gucci in the Emirates Mall after trying on heels — which Willam bought). Their special brand of song and off-color comedy will be presented all over the world, with dates domestically and in the UK, Australia, Europe and the Middle East throughout 2013
Fierce and foulmouthed, DETOX resides in Los Angeles, and has the Hollywood resume to show for it. When she's not starring in Rihanna music videos or recording singles with Ke$ha, she's showcasing her formidable, signature lip-synch as part of Chad Michaels' legendary Dreamgirls Revue and her own show Pumped in West Hollywood. Find her on twitter @TheOnlyDetox.
In addition to co-starring on RuPaul's Drag Race and DragU, WILLAM is best known as Cherry Peck on five episodes of Nip/Tuck, Stifler's she-male friend in American Wedding, and the tranny in the pre-Broadway runs of Rock of Ages. He has also been seen on TV in The New Normal, Southland, CSI:NY, Cold Case, The Shield, Criminal Minds, My Name is Earl, Boston Public, and CSI, among others. Willam's film credits include Because I Said So, Bloodrayne 3, Blubberella, and Candy Darling in HBO's Cinema Verite. As a stylist, his work has been seen on Magical Elves' show, Willam's Beatdown, and Transfashionable. Find him on twitter @Willambelli.
"Hollywood's most famous drag queen," VICKY VOX took the drag world by storm after touring the world as a vocal coach, choreographer, and instructor with the Young Americans. This New Jersey broad is a host and performer at the A-list only Beecher's Mad House at the Roosevelt Hotel in Hollywood, California where she sings live.
VIP MEET AND GREET (after the show) TICKETS AVAILABLE
FRIDAY AUGUST 16TH 7-10PM
NEIGHBOURS NIGHTCLUB
GA & VIP AVAIL ($18-30)
After you hit up the SHIT SHOW at Neighbours, you can bop over to The Seattle Eagle for DICKSLAP, and the official SHIT SHOW After Party. This month's DICKSLAP is also an Official SCRUFF Party with JOHNNY SCRUFF in attendance as well as RuPaul's Drag Race Pit Crew Member, SHAWN MORALES.
Nark Magazine Presents…
DICKSLAP! Third Fridays at The Eagle, a let loose scenario for boys and girls and more boys… a wonderland full of free beard rubs, slick hands and magical dancing gogo men, where the jello shots seem to just shoot themselves down your throat, and the sounds of the discotheque parade around and intoxicate you until you finally wake up from the dream, potentially next to someone you don't remember. Got it?
*** OFFICIAL SCRUFF PARTY *** w/
↓↓↓SPECIAL GUESTS↓↓↓
*Johnny Scruff
He put all the bearded dudes you could handle in your phone and at your finger tips and now he's going to lay his finger tips on you, say hi and have a drink about it!
*Shawn Morales (Rpdr Pit Crew Dude)
He's normally locked inside your magic picture box carrying drag queens around in his underwear on Drag Race, but now he's going to be locked in our gogo cage for you to throw your underwear at.
*Faggedy Randy
Sexy, stanky, faggedy- Randy is bringing all three to Dickslap.
↓↓↓RESIDENT ASSHOLE↓↓↓
Deejay Nark (Nark Magazine, Bottom Forty, Dickslap)
This time around I'll be headlining and confined to the DJ booth, so go head, talk shit about me, I won't hear you (OR WILL I?)
↓↓↓OPENING DJ BABE↓↓↓
*RIFF-RAFF (Bottom Forty)
The banger sisters are in town WATCH OUT.
↓↓↓CAGE PUPPIES↓↓↓
Ross Milam (Scruff cover girl, smize!!!) and Brendan Zincavage
VISUALS BY COLLIDE-O-SCOPE
Photography by Nark Magazine, Jello Shots by Bill Cosby, Fuzzy gogos created by moms everywhere.
FRIDAY 8.16 AT THE EAGLE
314 E. PIKE ST
10PM-3AM
(Visited 9 times, 1 visits today)