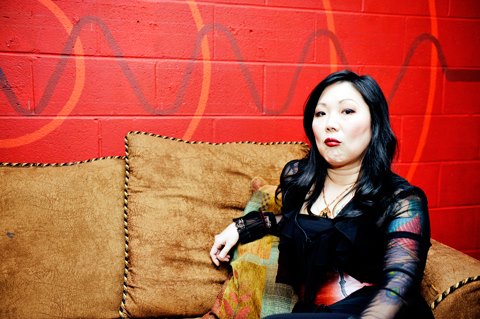 The Queen of Korean American Stand-Up Comedians Who Are Bisexual And Beloved By The LGBTQ Community is popping into Seattle for one of her annual visits…our "CHOsen" one, the divine Margaret Cho is onstage at Seattle Theatre Group's Moore Theatre for ONE NIGHT ONLY. It's her local stop on her "Mother" Tour and we're assuming that "Mother" is referring to Ms Cho's own hilarious Mama who's been a huge part of her act for decades with Margaret frequently doing impersonations of her mother.
More on "Mother":
Not one to rest on her laurels, Margaret spent whatever free time she had crafting her all new standup show, the uproariously and aptly named MOTHER, which kicked off in September, 2012, including a five-night stint at London's Leicester Square Theatre in October. According to Margaret, "MOTHER offers up an untraditional look at motherhood and how we look at maternal figures and strong women in queer culture. It's probably my edgiest show to date, filled with riotous observations on race, drugs, sexuality – gay-straight-everything in between, celebrity, culture, politics – nothing is sacred – least of all this MOTHER."
"Mother" and Margaret Cho will be expecting you at The Moore, tonight, Saturday, November 16. Tickets still available with the doors opening at 7pm and show at 8pm. Go HERE for tickets/more info.
(Visited 1 times, 1 visits today)