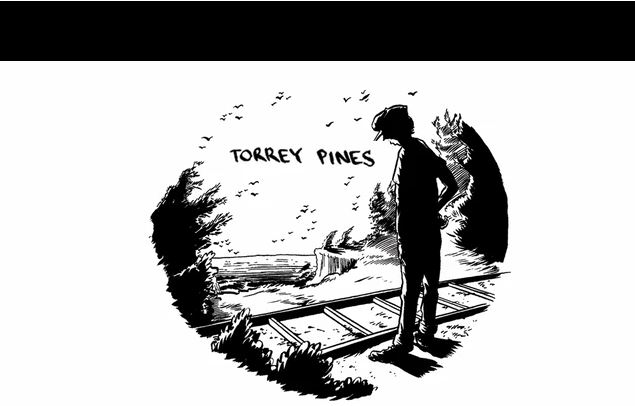 We are HUGE fans of Seattle animator/filmmaker Clyde Petersen, probably best known in local cinéaste circles as the auteur behind the "Boating With Clyde" series of short films that feature Mr. Petersen undertaking aquatic adventures on Seattle waterways that involve interviews with local celebrities and friends. Those really in the know have checked out Clyde's very clever animated projects as well, which include partnering with Canadian performance artists, Rae Spoon and Ivan Coyote on the mixed media installation/performance show "Gender Failure" which played at the 2013 Translations Film Festival.
Earlier this week, Clyde released to the world news of his latest project and it's his biggest one to date. TORREY PINES is:  "A stop-motion animated adventure film: Coming of age with an undiagnosed schizophrenic single mother in San Diego in the 1980s" and based on Petersen's actual life story. From the Kickstarter project description:
With a mother fueled by hallucinations of political conspiracy and family dysfunction, Petersen is kidnapped at the age of 12 and taken on a cross-country adventure that will forever alter the family as they know it.  Join Petersen as he takes you back to a time when MTV changed history of music television and Garth Brooks was the best-selling artist in the entire world. Put on your swim trunks, grab your boogie board and come enjoy the view at Torrey Pines. Shit's about to get real. 
Featuring an awesome soundtrack by

Your Heart Breaks
Corey J Brewer
The Beaconettes
and many many more.

I understand how much work it will be to make a feature stop-motion animated film, but I have the experience and it's time to do it. The largest challenge will be the amount of time it takes to animate, pushing through the slower days and longer scenes. I am very excited about this though. I am ready to make this happen. Join me!
The Kickstarter campaign has a goal of $30,000 and an end date of December 11, 2013. The campaign is off to a good start with $6159 donated so far but that still leaves about $24k to be pledged. Frankly, if Seattle Gay Scene had the funds, we'd give Petersen what he needs RIGHT NOW…we really want to see this film happen! But, we ain't got that kind of bank so all we can do is whine at you all, to make this happen.
It's up to all of us, to support local artists. It's up to all of us to support talented, queer local artists undertaking serious, complex and exciting works of art.
Let's make TORREY PINES  a reality. There needs to be more films about "schizophrenia, mental health and queer youth". Go HERE to donate, NOW!
And, check out the awesome pitch trailer for TORREY PINES from the Kickstarter project site. It's a rare case where the pitch is also a piece of entertaining art.
For more info on Clyde Petersen, check out these websites:
Websites
(Visited 1 times, 1 visits today)