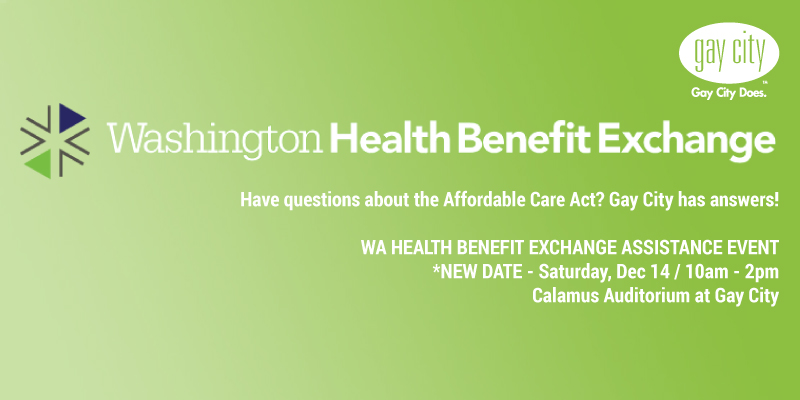 Have you been desperately trying to sign up for Health Insurance coverage via the brand new Affordable Healthcare Act, aka "ObamaCare" but haven't had any luck with their awful website? Or, are you just confused about qualifying or how to figure out what your options are or what plan to go with?
Gay City Health Project is here to help you out.
Our lovely community friends are presenting a forum on Saturday, December 14 from 10 am to 2 pm in their Calamus Auditorium at 517 East Pike Street.
More info from their website:
WA Health Benefit Exchange Assistance Event
Satuday, Dec 14 / 10am – 2pm
Calamus Auditorium at Gay City

Want to sign up for healthcare under the Affordable Care Act, but have questions or need assistance? Gay City Health Project invites the community to learn about and sign up for healthcare under the Affordable Care Act on Saturday, Dec 14, from 10am – 2pm at Gay City on Capitol Hill.

"There is a lot of conflicting information out there about the Affordable Care Act", said Gay City Executive Director Fred Swanson. "We want to be able to answer questions and assist the community to enroll using Washington State's successful Health Plan Finder website."

If you currently don't have health insurance, you aren't satisfied with your current insurance, or your plan is changing, WA Health Plan Finder will help you find affordable options. For those who qualify, there are credits and subsidies available to help.

"One in five LGBT adults under 65 in Washington State is without health insurance," added Swanson. "LGBT people in Washington have rates of asthma, diabetes, and heart disease that are above state average, and a third of women age 40 and over in our community have not been screened for breast cancer. The Affordable Care Act can help change that."

The Affordable Care Act includes new benefits to the LGBT community. These benefits include:
Nondiscrimination protections: Public and private health insurers are prohibited from discriminating on the basis of sexual orientation, gender identity, or HIV status.

Insurance market reforms: The Patient's Bill of Rights phases out annual and lifetime limits on coverage, ends preexisting condition exclusions, and ends arbitrary rescission of insurance coverage. These protections are especially important for transgender people and people living with HIV/AIDS.

Prevention and wellness: Certain preventive services particularly important to LGBT people will soon be covered by insurance as Essential Health Benefits, including HIV testing, depression screening, and tobacco use screening.

New coverage options: Subsidies will allow many LGBT people to afford to buy health insurance for the first time.

Data collection: The ACA authorizes the Secretary of Health and Human Services to expand the collection of sexual orientation and gender identity data on national health surveys that help us better understand LGBT health and prioritize spending and research priorities.
There is no need to register for this event. It will be important to know your Social Security number and income information, though, if you want to sign up for insurance at the event. There will be in-person assistants to help you navigate the process there.

The event will take place in Gay City's Calamus Auditorium on Saturday, Dec 14, from 10am – 2pm. Gay City Health Project is located at 517 E Pike St, Seattle, WA, 98122. For more information, Gay City invites you to contact their LGBT Resource & Referrals volunteers at 206-323-LGBT (5428) or resources@gaycity.org
Tags: affordable care act, Gay City Health Project, Health Insurance, obamacare, sgsapp