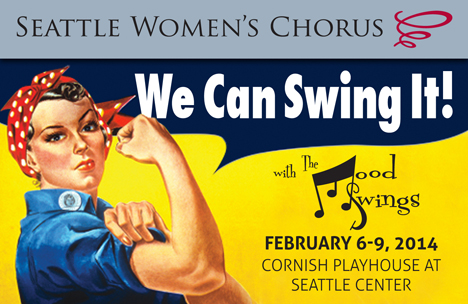 I feel terrible that I forgot to plug this terrific new concert from the very terrific ladies of the Seattle Women's Chorus! WE CAN SWING IT! opens Tonight, Friday, February 7 at Cornish Playhouse at Seattle Center aka the Space Formerly Known As Intiman….
Here's more poo from the website:
WE CAN SWING IT!
WITH SPECIAL GUEST, MOODSWINGS JAZZ BAND
Experience the iconic image of Rosie the Riveter in a whole new way: through the power of an original composition by Associate Artistic Director, Eric Lane Barnes. Highlighted by pieces entitled "It Ain't Women's Work," "Femininity Quotient," and "The Doors You Opened," this moving narrative gives you a glimpse into the lives of the women who lived and worked in these dark but exciting times.
Joining Seattle Women's Chorus for a portion of the show is local all-female group, the Mood Swings Jazz Band. This show will be a compelling and moving entry into our new home: Cornish Playhouse at Seattle Center
Communication Access Realtime Translation (CART) will be provided at the February 8 – 2:00pm performance. For more information, please call the box office at (206) 388.1400 or
email tickets@flyinghouse.org.
CORNISH PLAYHOUSE
AT SEATTLE CENTER
formerly the Intiman Playhouse
Thursday, February 6  —  7:30pm
Friday, February 7  —  8:00pm
Saturday, February 8  —  2:00pm
Saturday, February 8  —  8:00pm
Sunday, February 9  —  2:00pm
If you love choral music, please GO and support this terrific chorus!!!
(Visited 2 times, 1 visits today)