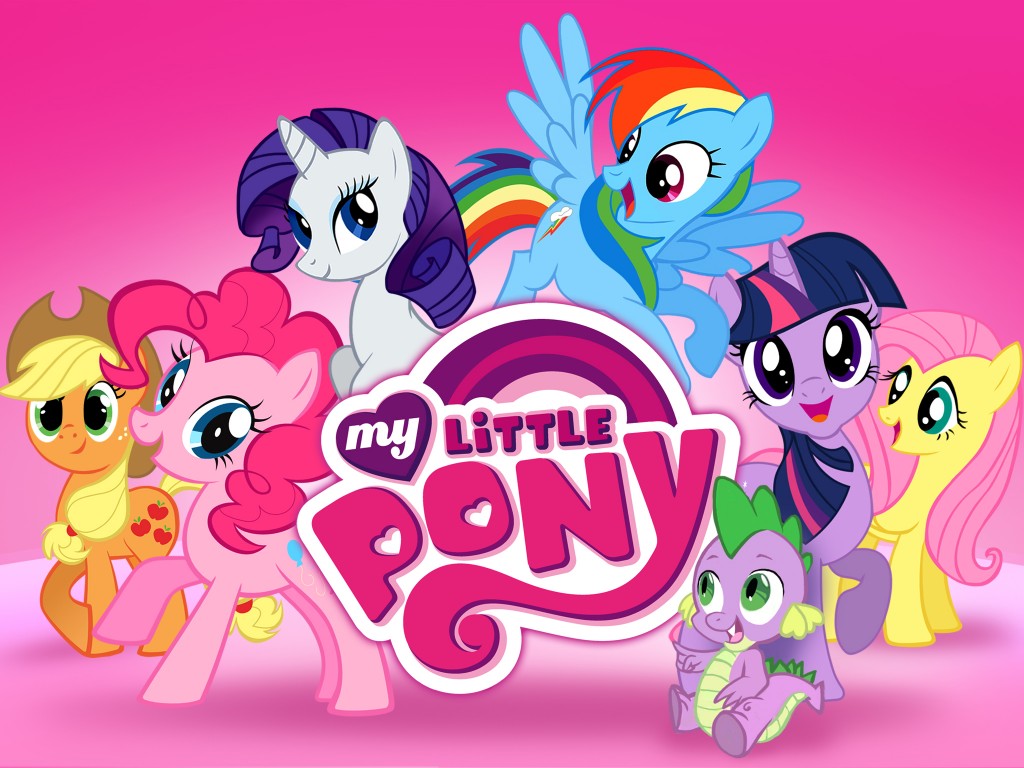 Yes, the tiny pitter patter of big, stinky adult male feet will be heard rumbling along the intersection of Pine & Harvard Saturday morning, May 24 as hordes of engorged and tingly "Bronies" head to the 11 am screening of "A Brony Tale" the new documentary about "bronies"…adult men who REALLY like the old animated kids show "My Little Pony":
Voice actress Ashleigh Ball acknowledges that "The pervert alarm, for sure, went off in my head," when she first head about the "Brony" phenomena. The concept of a Brony— an adult male fan (usually aged 18-30) of the animated children's series "My Little Pony: Friendship is Magic"—does give one pause. In this Morgan Spurlock-presented documentary, director Brent Hodge follows Ball, the voice actress behind the series' characters Applejack and Rainbow Dash, to her first BronyCon—the largest "My Little Pony" fan convention in the world. As we meet the celebrities of Brony fandom, and see them through Ball's eyes, we discover what Bronies already know: friendship is magic. Un-ironic and non-controversial, A Brony Tale, is never mocking or condescending. Ball is bemused that she's a part of people's lives in this way, and that voice acting has made her a celebrity in this sub-division of geek culture. The Bronies themselves echo the values of the series, and are visibly moved and inspired as they talk about their commitment to celebrating friendship and kindness unapologetically claiming that, "Bronies have changed the definition of masculinity."
This SIFF film looks like a lot of fun and both Ashleigh Ball and director Brent Hodge will be in attendance along with scores of area Bronies…if their mommies are able to wake them up in time, and drive them to Capitol Hill.
(Yes…unlike the film, I'm going to be a teeny, tiny bit mocking….in my usual loving sort of way.)
The screening is at 11 am but there's a Red Carpet arrival thing (why?) at 10:30…we're hoping for costumed folk!!!!
On Sunday, May 25th, you can return to Le Egyptienne for the 1:30 pm screening of the adorable documentary, I AM BIG BIRD: THE CAROLL SPINNEY STORY, about the artist behind Big Bird and Oscar the Grouch, the iconic Sesame Street characters.
"Big Bird is the most popular children's character in the world and I think that's largely due to Caroll." (Jim Henson) Caroll Spinney has performed as Big Bird and Oscar the Grouch on "Sesame Street" for over 40 years. Directors LaMattina and Frost (SIFF 2011 favorite Brownstones to Red Dirt) were given extraordinary access to Spinney's home video archive that dates back to the 1950s and masterfully crafted a reconstruction of a warm-hearted puppeteer who has imbued the puppets with his soul. The narrative carefully explores not just Spinney's greatest successes, of which there are many, but also his deepest challenges, including Big Bird's fall from popularity in the '90s and a shocking murder investigation on his property. Using current interviews with Spinney's family and "Sesame Street" costars as well as never-before-seen home movies capturing intimate moments from his life and career, I Am Big Bird reveals the creation of characters that have influenced generations of children. And, as the yellow feathers give way to grey hair, it is the man, not the Muppet, who will teach us the greatest lesson of all—how to love unconditionally.
Subject Caroll Spinney, directors Dave LaMattina & Chad Walker, and special guest scheduled to attend.
We're kinda hopin' and guessin' that BIG BIRD will be the Special Guest…who else could it be?
Elmo?
Don't think so….
(Visited 4 times, 1 visits today)