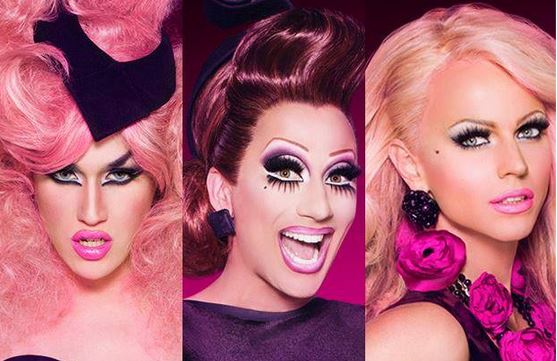 I'll make no bones about it…I'm kinda over "RuPaul's Drag Race".
STICK A FORK IN THE SHE-MAIL SHOW, 'CAUSE IT'S DONE, HUNTIES!!!!!
Don't get me wrong…j'adore Ms Charles and World of Wonder for creating "Drag Race". It was a clever and inspired idea and well executed. It also helped SAVE the art of drag which was on the verge of going the way of vaudeville and the video arcade. RuPaul made drag cool again and relevant and very, very, very popular. Well, at least for straight females…(wink)
But, the show is wrapping up Season Six and prepping for a seventh and it feels…repetitive. Tired. Been there, done that, seen that same gag three seasons back. In fact, a lot of the gags and jokes feel as old as the 70's pop culture references that RuPaul so enjoys. (Want to impress Ru while competing on "Drag Race"? Reference a gag from "The Carol Burnett Show" or "Sonny & Cher"….) I like Michelle Visage but she needs to go…we've heard her snarky schtick. I don't like Santino Rice and he REAAAAAAAAALLLLY needs to pack up his sewing kit and get the fuck out of WeHo. And, while they are "pretty" even Ru's gowns seem very one-note. It's ironic that the contestants get yelled at for not displaying a range of talents and looks but RuPaul has been playing "The Glamazon" for over 20 years. Not much variety going on THERE!
And, the actual production feels very forced, manufactured and manipulated. Too many efforts to make the contestants cry. Too much FAKE drama (it's a show about drag queens; they're perfectly capable of creating REAL drama!) Too much OBVIOUS editing to create their "plot lines".  And, to be frank, their casting has been terrible the last couple seasons…after the first episode or two, it's very clear who's going home in the first part of the season, mid-season and who'll be in the Final Five. Lazy casting leads to a lack of drama. Boring.
That being said, tonight (Monday, May 19, 2014) is the final episode of Season Six airing on LOGO and playing at 75% of the gay bars in the U.S. and Canada. Our very own BenDeLaCreme will obviously not be available at her own successful screening party at Century Ballroom (co-host Sarah Rudinoff and buddy Waxie Moon will be on hand) but in Las Vegas for the huge cast party and REAL crowning with last year's winner, our very own Jinkx Monsoon on hand to do the honors. (For those of you unaware, tonight's final episode was filmed earlier this month where they filmed ALL three finalists: Adore Delano, Bianca Del Rio and Courtney Act being crowned and the actual winner edited in just prior to tonight's telecast and all done to prevent leaks.)
Oh, and while all three finalists have their charms, we're TEAM BIANCA all the way…she's a funny, polished star. Adore is, well, adorable but she has room to grow. Courtney is lovely….but, came off a bit bland during the series. So….
THE CLOWN MUST WIN!!!!
Oh, here's a clip of Miss Monsoon doing a warm-up at the taping of the final. Our Girl performs BLUE material and sings that "Coffee & Wine" song off her album. Enjoy!
(Visited 1 times, 1 visits today)