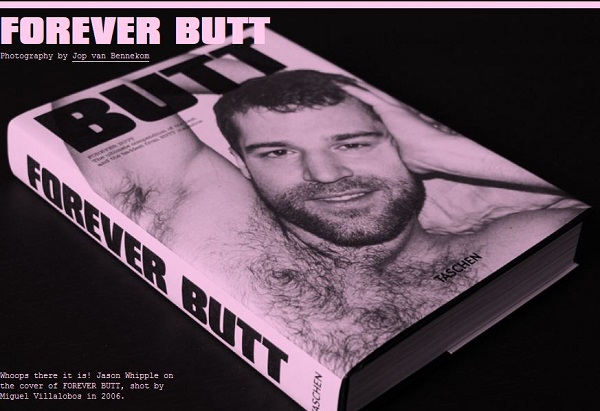 If you don't love BUTT, the dirty, arty European gay sex/culture magazine, you are dead to us. It's filthy fun and exquisitely art directed, a winning combination. Also: it's pink. And, black.
Delicious.
Sadly, for fans of real magazines, you can't really find HARD copies but there's always their web version. AND, the lovely folks at our favorite arty publishing house, Taschen collected all the best parts of the magazine into book form a few years back, a book that's extremely hard to get hold of. (No, you can't borrow my copy!)
Happily, Taschen and BUTT have teamed up for a brand new book, FOREVER BUTT with all new zexy photos, interviews and stories. It's on sale now in Europe and since I don't have a copy yet, you should buy me one! (Or, I'll have to wait until December when it publishes in the U.S.)
Here's more about it, from BUTT itself!
The rumors are true: here's the smashing arrival of FOREVER BUTT, the follow-up to the BUTT BOOK from 2006 that sold out everywhere. The girthy book — hardback this time and bound in luscious black faux leather — features a wide selection of the best and the baddest of BUTT. It's a dazzling compilation of interviews, revelations and photographs previously seen in the magazine, BUTT calendars, and/or here, online. Wolfgang Tillmans wrote an introduction. Paul Flynn re-interviewed Gert and Jop, the founders of BUTT. It's a generous 536 page book, to enjoy in bed, or in front of the fireplace, or on a long train trip.

Like the previous book, it is published by TASCHEN and will be available in Europe from this week on in the best stores and online. In the U.S. of A., it will available in December. Click here to see more or buy.

End
Me wantee!!!!
Tags: BUTT, BUTT Magazine, sgsapp, Taschen