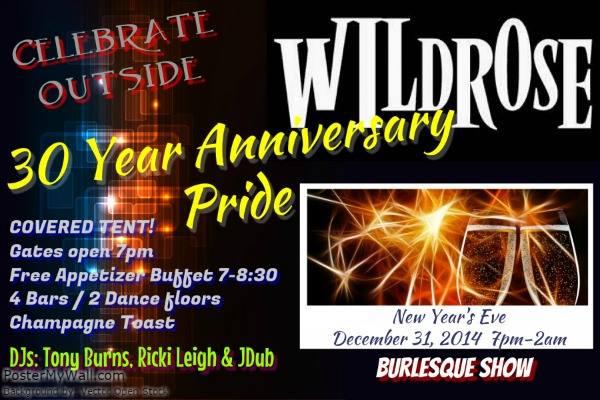 Thirty years is a milestone.  Some celebrate that marker in a "dirty thirty" birthday, others with a pearl themed wedding anniversary.  The Wildrose will celebrate 30 years in business in the only way they know how…with a BIG OL' BLOCK PARTY!  On New Years Eve, of course.
The Wildrose has weathered 30 years in business with all the style and grace required of a business residing in the constantly changing dynamic that has become Capitol Hill.  Despite the fact that The Wildrose has traditionally been known as a Lesbian bar, it is welcoming to the entire community.   With a diverse line up of programming, resident DJ's, and bar staff, it's easy to see why they've been able to sustain – while others have come and gone.  I myself have held  DJ residency at The Wildrose, in addition to frequenting it over the years, and it must be said that Shelley and Martha, the owners of The Wildrose, are AMAZING, and their staff reflects that.  We're lucky to have these individuals as a part of Seattle's LGBTQ community.  If you've had a chance to interact with these women, you know why The Wildrose has staying power.  They just DO. NOT. STOP.
Mark your schedules for New Years Eve and be on hand to welcome The Wildrose into it's fourth decade of business.  This must make them a Seattle landmark, right?
Here's what we know about the festivities thus far:
The Wildrose Celebrates 30 Years In Business BLOCK PARTY – Wednesday, December 31, 2014

With DJ's:  Mathematix, Dewey Decimal,Tony Burns, Ricki Leigh & J Dub

Burlesque by:  Briq House

Dancing Girls!

Midnight Champagne Toast

Complimentary Appetizers 7 – 8:30 PM

$17 Advance, $20 Day Of Show

Table Package:  Entry for 6 – no waiting.  2 bottles of champagne, reserved table for 6, Hats & Noisemakers – $225.00
Advance tickets can be purchased at The Wildrose (1021 E Pike St)
Link to event page: https://www.facebook.com/events/1504267589837212/
Tags: Anniversary Events, New Year's Eve Events, NYE, sgsapp, The Wildrose, Women's Events