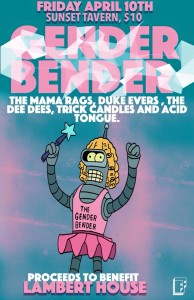 For the lazy and Capitol Hill-centric, there IS more to gay life in Seedle than that dreary, gentrified, embattled but endearingly over-priced Hill. There's also…
BALLARD!!!
Yes…BALLARD, home of Scandies, and fish, and nesting lesbian couples, (Hi Pam & Kerri!) and a very similar amount of dreary gentrification. It's a lot like Capitol Hill just flatter and colder.
It's also home to a still cool divey, live music venue, The Sunset and tonight, (Friday, April 10, 2015) the site of a fun, queer-centric fundraiser benefiting the kids at Lambert House. Five cool local bands are dressing in drag and performing from 8pm on to the wee wee hours. Here's the FB poo:
It's a delightful opportunity to leave the streets of Capitol Hill  that bustle with the crowds of yokels from Bellevue, to schlep over to chilly, grey Ballard and hang out on their greasy streets that bustle with crowds of yokels from Kirkland.
As a Robosexual lover, we also enjoy that poster.
(Visited 1 times, 1 visits today)