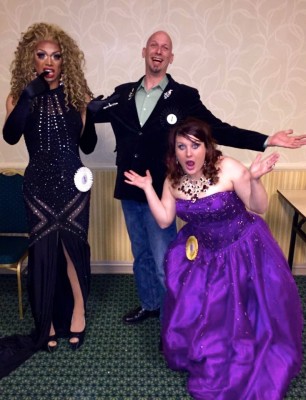 The Imperial Court System is over 50 years old and still going strong. Last night, the annual Mr, Miss, & Ms Gay Washington pageant sashayed into Everett, WA to crown the newest titleholders. That fact alone was big, since it's never been held outside of the Tacoma Empire.
If you remember, about a week ago, I interviewed Alessandra Hunt about her hopes, dreams, and dragspirations. Naturally, she played it cool by saying, "I think at this point in my life, I am more than able to fully commit myself 110% to another title and would like to run for something again."
Here's the full roster:
Mr. Gay Washington 2015 – Christopher Miller
Miss Gay Washington 2015 – Alessandra Hunt
Ms Gay Washington 2015 – Kelly BDC
Seattle Gay Scene is definitely interested to see how their year and charitable contributions unfold.
Tags: Alessandra Hunt, Court Queens, Drag Pageants, Miss Gay Washington 2015, Mr Gay Washington 2015, Ms Gay Washington 2015